SteelSeries Aerox 5 Wireless Review
Reading Time:
4
minutes
Fast Specs
SteelSeries Aerox 5 Wireless

Up to 80 hours of continuous play
Fast charging via USB-C
2.4 GHz & Bluetooth Connections
Ultra lightweight (66g)
5 quick action side buttons
AquaBarrier Technology (IP54 Rating)
TrueMove air precision optical sensor
Website: https://steelseries.com
RRP: £134.99


The product was provided for review purposes
Sleek & Smart Packaging
When the SteelSeries Aerox 5 Wireless mouse turned up in the post, I had no idea what to expect. Having not had a new mouse in years (and never a wireless one), I was completely in the dark as to how the Aerox 5 Wireless would be. Having worked with SteelSeries products in the past, though, I knew it would be packed beautifully.
This box is solid and firm for perfect product protection, something you want with a premium accessory. Once opened, I was greeted with the Aerox 5 Wireless mouse set beautifully in the top layer of the box. Under this layer was a selection of accessories. A USB-A to USB-C adapter to translate cables depending on your setup, a lovely braided cable for charging and the 2.4 GHz wireless dongle to connect the device to your PC.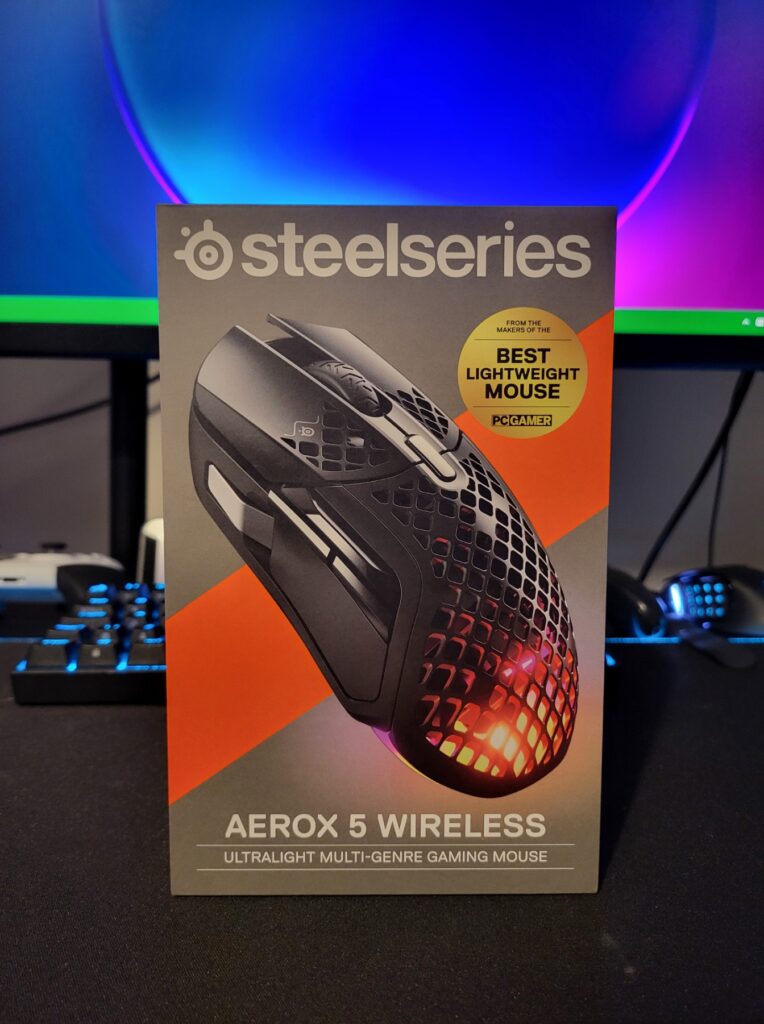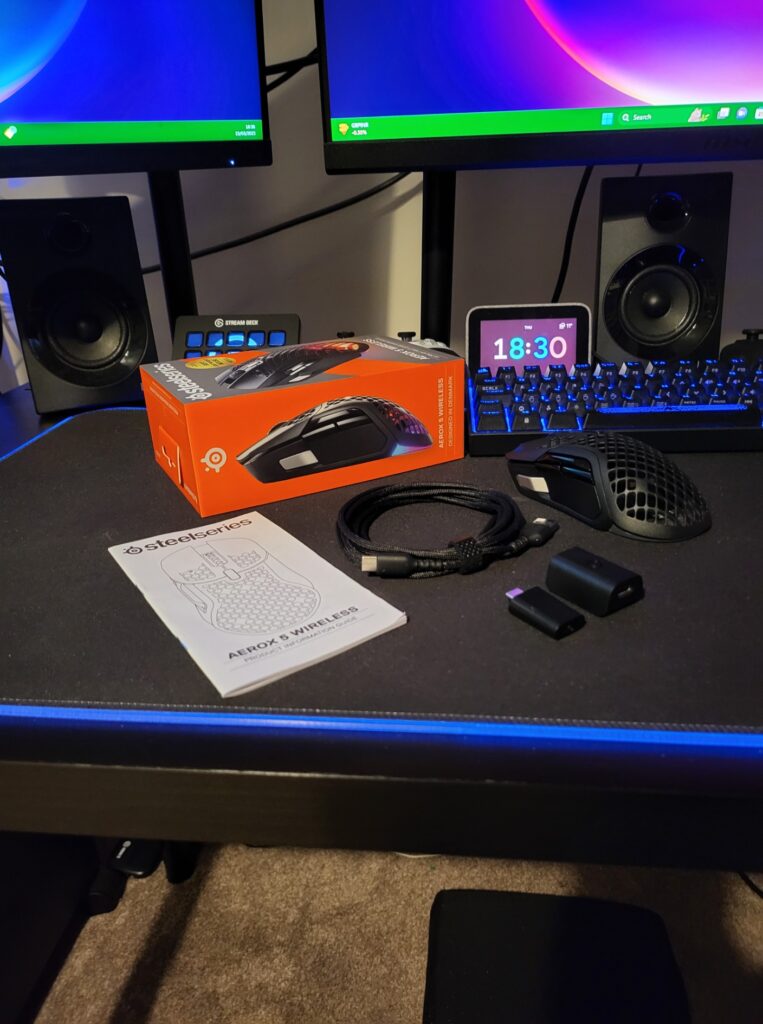 She's Got The Looks
The first thing you will notice about the SteelSeries Aerox 5 Wireless is its striking design. It has a sleek and modern look that will be well-suited to gamers who like a bit of flair. The mouse features a translucent honeycomb shell that reveals the internal components, giving it a distinctive and eye-catching appearance. The mouse is available in two colours: black and white, both with RGB lighting that adds a touch of personality to your setup. SteelSeries have also recently released a Diablo IV edition which is equally striking.
While some may think the design is not very comfortable looking, I would have to say the SteelSeries Aerox 5 Wireless is one of the more comfortable mice I've used. You don't notice the texture when using it, and it has the added benefit of keeping your hand cool – great for those intense solitaire matches!
Oh Boy, That's Comfy
The SteelSeries Aerox 5 Wireless is a lightweight mouse, weighing only 66 grams, making it one of the lightest wireless gaming mice on the market. Its lightness ensures you can move the mouse quickly and effortlessly, which is ideal for gamers who need to react quickly in fast-paced games. The honeycomb shell design also provides plenty of ventilation to keep your hands cool during long gaming sessions.
The SteelSeries Aerox 5 Wireless mouse has a low profile design and is best suited for claw and fingertip grip styles. It features a textured grip on both sides of the mouse, which offers a comfortable and secure grip for extended use. The mouse is also ambidextrous, making it suitable for left-handed gamers – which means my partner might be swiping this one off my desk!
Now that's a lot of Features
The SteelSeries Aerox 5 Wireless is equipped with several features that make it an excellent choice for gamers. The mouse features a TrueMove Air optical sensor, which offers precise and accurate tracking, up to 18,000 CPI. It also has a 400 IPS tracking speed, ensuring smooth and responsive movement.
The SteelSeries Aerox 5 Wireless mouse has a battery life of up to 80 hours, ensuring you can use it for an extended period without worrying about recharging. The mouse charges quickly, and you can get up to 40 hours of battery life with just 15 minutes of charging.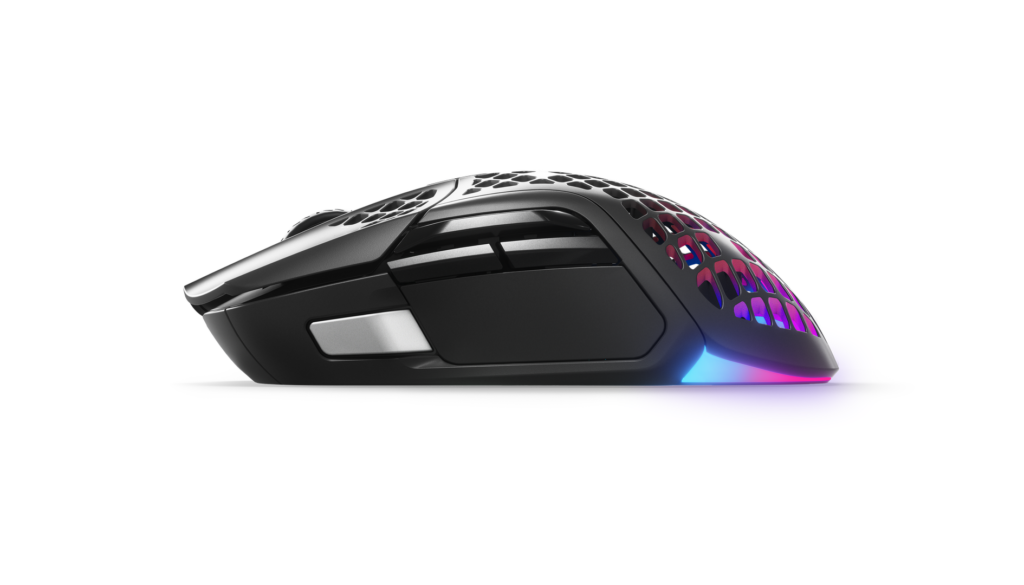 The SteelSeries Aerox 5 Wireless has six programmable buttons that you can customize to suit your gaming needs. The mouse features SteelSeries' own Quantum 2.0 wireless technology, which provides a stable and reliable connection for lag-free gaming. It also features a Bluetooth switch to seamlessly change the device input. I use this to switch between my work and home computers, making it incredibly versatile.
One standout feature of the SteelSeries Aerox 5 Wireless is its IP54 water and dust resistance rating. This means the mouse can withstand accidental spills, dust, and dirt, making it more durable and long-lasting.
What's the Verdict?
I have to say that I have been astounded by this mouse. Not only does it feel and perform great, but it's so useful for me between work and play! I would recommend this mouse to anyone in a heartbeat!
This mouse does tend to also go on sale, so it's an absolute no-brainer, especially when you're saving a little cash too.
Rapid Reviews Rating
5 out of 5
5
You can buy the SteelSeries Aerox 5 Wireless Mouse on the SteelSeries website.