Astrologaster Nintendo Switch Review
Reading Time:
5
minutes
Fast Facts
Astrologaster

Developer: Nyamyam Games Ltd
Publisher: Plug In Digital
Website: https://www.astrologaster.com/
Genre: Adventure, Text Based
Platform: Nintendo Switch (Also available on PC)
Age Rating: 12+
Release Date: 18/02/2021
Price: £8.99

A code was provided for review purposes
Injecting humour into games is nothing new. There is an easily recallable list of such titles for the Switch from the classic Undertale though to Thimbleweed Park and Jenny LeClue. Now, there is a new title to add to that list. Astrologaster is a comic look at the way certain people thought back in Shakespearian London. There are nods to all sorts of events and historic occurrences, both true and conspiratorial.
How did I enjoy my time reading the stars and deciding people's fate? Well, I could tell you that because Venus is in retrograde this game is somewhat entertaining, or, for some more reliable feedback, keep reading this Rapid Review.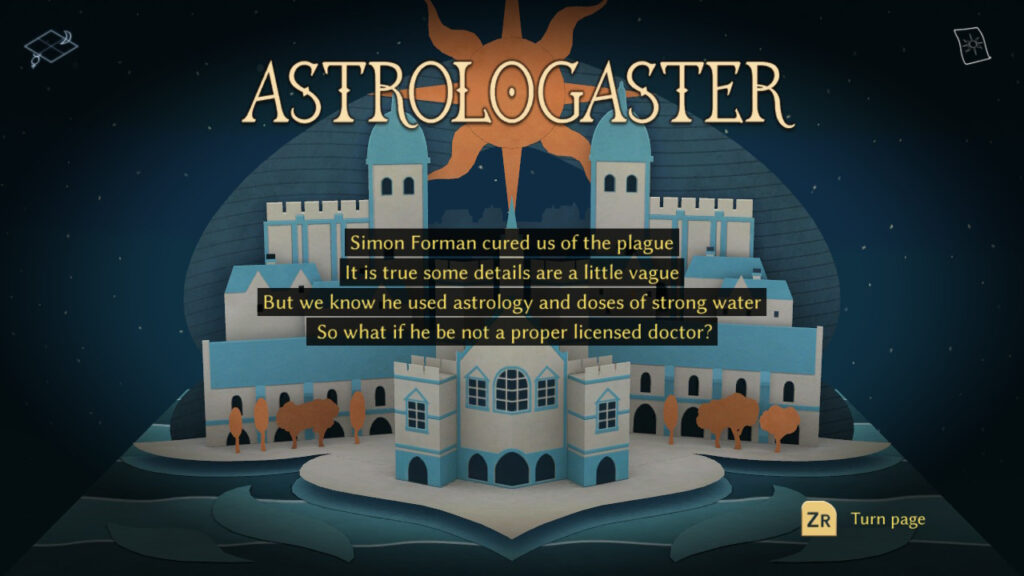 Written in the Stars
To look at, there is nothing visually stunning about the game, yet the style they have chosen works very well. There are really only three of four screens that you move through in a rotation. The main protagonist, one 'Doctor' Simon Forman, stands on the left side of the screen inside his house/practice. Visitors arrive outside on the external screen and get given a short introduction sung in true Shakespearian style. Inside they stand before the doctor, tell their problem and then, we turn our attention to the stars.
Simon – for we shall not call him Doctor just yet – uses the stars to assess and guide his patients, helping them with everything from cures to marital advice and investment recommendations.
The game is rather simple, however offers an undeniable complexity along with many humorous situations that make decision making a trifle more difficult. There were times when I knew the right answer in terms of progressing the storyline but couldn't help but offer one that would lead to more … interesting consultations down the line.
Live, Love and Laugh with Your Local GP
There is humour aplenty in Astrologaster. I was very impressed with the level of writing, especially the dialogue. The developers kept the historical theme going in very smooth fashion. The result was a period piece of a game that played out with minimal interaction, yet near total immersion.
There were times when I laughed out loud playing this game, while other consultations had me seriously considering the different readings from the stars. While playing this game, I went through several different thoughts and feelings. Those early conclusions that can often be so dangerous.
When first playing the game, I was impressed with a lot of things, and entertained by the language and word skills. However, after not too long I was struggling to get into the game. I felt it was a bit disjointed and felt there was no real consequence to my diagnoses. Yet, this soon turned again and by the end I found myself fully invested in the different characters' arcs. I wanted to help certain characters, while others I found more of an annoyance and mayhap led them astray. The game gives a lot of freedom with this, and as such offers a degree of replayability.
Cheaper than Med School
The main objective of the game, aside from directing the often-converging storylines of your patients, is to obtain your medical license. Simon Forman is not a doctor, but in treating his patients he hopes to obtain enough letters of recommendation to have the Archbishop grant him a medical license. I'm not sure I would trust such a qualification in the hands of a man about to deliver my baby or operate on my skull, but as a video game character, it is quite entertaining. It's also important to realize that a lot of what goes on in this game is based in truth.
The main protagonist himself, Simon Forman is a real figure from that time, and a man who had quite the life story. I urge anybody reading this to give him a quick Google … once you have finished this review of course.
A Simple Design that Works Well
Overall, the design of Astrologaster worked very well. It is a clean and tidy game, that does not offer too much in terms of visual indulgence but somehow creates a charming world that has the correct feel.
The entire story plays out as if in a book. One of those pop-up books of our childhood. Moving from scene to scene was done as if turning a page in said book. Elements would fold down upon themselves as the page moved and new images would unfold. A simple yet elegant design that gives the game a standout quality that somehow matches its humorous tone.
The thing I found most enjoyable about this game was the story. The time that went into crafting the narrative and the branching pathways. It's no mean feat and certainly deserves a special mention. It also continues to demonstrate the importance of story. Yes, graphics are good, and maybe the low rest, pixel art style is becoming slightly overused in the industry right now, but story is still, in my mind, the key element of game design.
Why Read the Stars?
I enjoyed the concept behind reading the stars, and I like the way it was based in truth, but at the same time, I found the star reading element somewhat superfluous. Yes, it was the key dynamic through which the game advanced, but most of the time I based my decision on the text behind the options and never paid much attention to the actual position of the constellations. They could have just as easily removed the star sign element, keeping only the decision-making element and the game would not have been too different.
I can only feel that for all the game's strong points, there was something missing when it came to the use of astrology. I couldn't rightly say what exactly, but it's one of those instances where when playing the game, you realize that something is just missing.
Conclusion
I enjoyed my time with Astrologaster. It made me laugh and it made me think. I even learned a thing or two while playing it. However, it was not a perfect game. Story is important but at times it felt a tad too repetitive, as all you did was move from one patient to another. The same scenery and the largely static gameplay grow a little tiresome and at times you can find yourself just making choices and fast forwarding through the text.
There is some replay value, and for those interested in exploring just how mean or generous you could be as a doctor, I could see the game getting a few playthroughs. However, for me, it's really going to be a one and done title.
Rapid Reviews Rating

You can get your copy of Astrologaster from the Nintendo eShop here.