Reading Time:
8
minutes
Fast Facts
WWE 2K22

Developer: Visual Concepts
Publisher: 2K Games
Website: https://wwe.2k.com/
Genre(s): Simulation, Sports
Platform: Xbox Series X (also available on Xbox One, PS4, PS5, Microsoft Windows)
Age Rating: PEGI 16
Release Date: 11/03/2022
Price: £64.99

A code was provided for review purposes
I'm a wrestling nerd and I'm not afraid to say it. So, when the chance came along to review WWE 2K22, I grabbed that brass ring with both hands.
After a frankly terrible game in 2019 and a hiatus in 2020, there was a weight of expectation attached to WWE 2K22 that has not been around since the successor to WWE Smackdown! Here Comes the Pain.
Did the team at 2K Games deliver and go some way to redeeming their reputation, or have they pulled off a bigger babyface turn than Randy Orton, or did they cement their place as the greatest heels in video game development?
Keep reading this Rapid Review to find out.
All The Classic Modes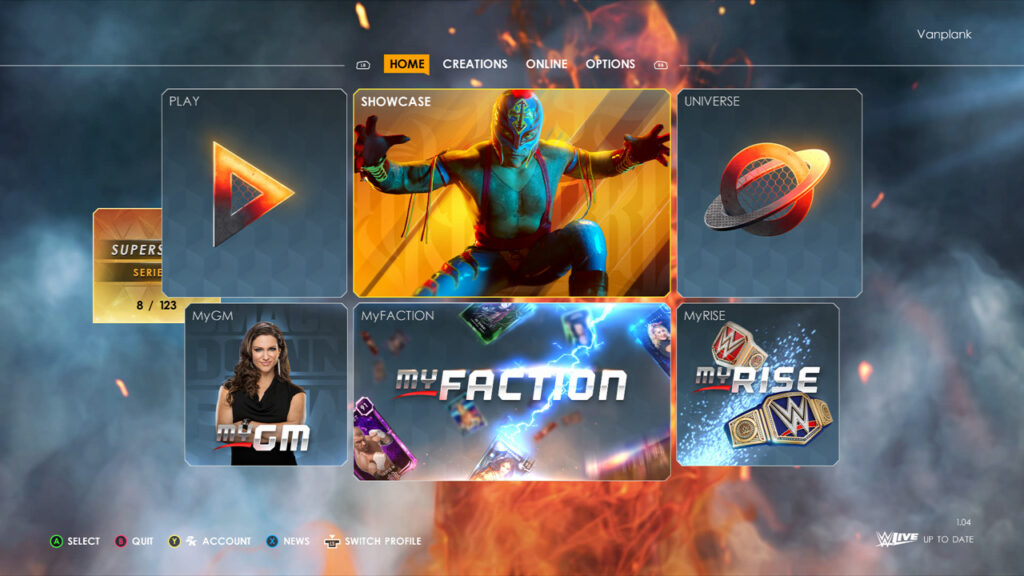 The game includes all of the classic modes and a strange new mode. More on that in a bit. As you would expect from a WWE game you have the standard play mode, where you select your wrestlers, your match type and off you go. A 'Quick Start' if you will.
A Quick Overview
Before we get into the real details, let's take a quick look at the different game modes on offer in WWE 2K22.
Showcase – Follow the career of the GOAT of GOATs Rey Mysterio Jr. The combination of interviews, real footage, and gameplay is an addictive and fun mode. I really like the way the game would cut away from gameplay to real footage – once you hit a particular target – and then back again seamlessly.
Playing this mode also unlocks new playable characters, title belts, and arenas for other modes too.
MyUniverse – Take control of the wrestling world. Assign your superstars, build your own shows, and let the storylines play out. This is a great sandbox mode where everything goes. Stick with the WWE format or create your own federation and run your own shows and PPVs.
Follow the career of a single wrestler, or simply sim your way through everything, playing the role of the UBER-GM.
MyRise – The classic storyline mode. Start off as a rookie fresh into the performance center, and work your way up to the big leagues. This is a really fun mode. You are faced with multiple choices along the way and each one can impact your career. Heel or Face, align with the Monday Night Messiah or stand alone? Challenge the champ like Bron Breaker or bide your time and pay your dues.
MyGM – Much like MyUniverse mode, the MyGM option sees you take control of a particular brand and go head-to-head with another show for brand supremacy. Schedule matches, set rivalries, build your match card and have storylines build and culminate at your PPVs. Manage your roster, hire new superstars and dip into the pool of legends to give your card a boost.
Introducing MyFaction Mode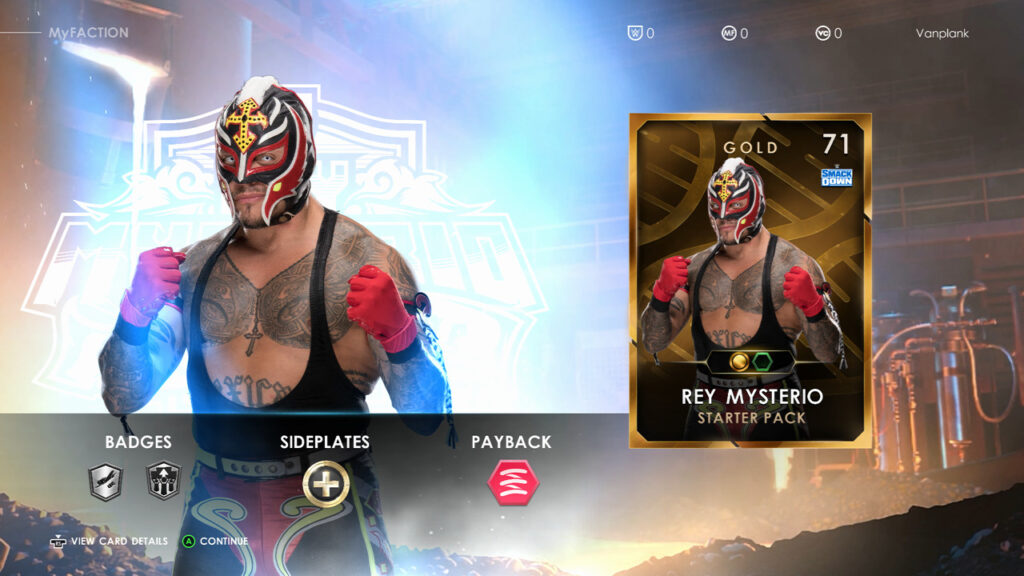 Have you ever played WWE Supercard on your mobile? I have and I'm not ashamed to say I still do. If you can also answer yes, then you will understand the concept of MyFaction mode.
You start with a base set of cards. These cards can be charged by completing certain milestones in matches. You can earn points to buy more cards through wrestling and achieving certain targets.
You can unlock certain cards in the mode however, from my understanding these cannot be played in other game modes.
Personally speaking, while I enjoyed the concept, it is basically a microtransaction mode and adds nothing to the game. By this I mean, they could take it away completely, and my score would not change a single bit.
If anything, I am almost ignoring it as a mode. It's not bad, it's not good, it's simply… there.
Ladies and Gentlemen, Boys and Girls, Children of All Ages…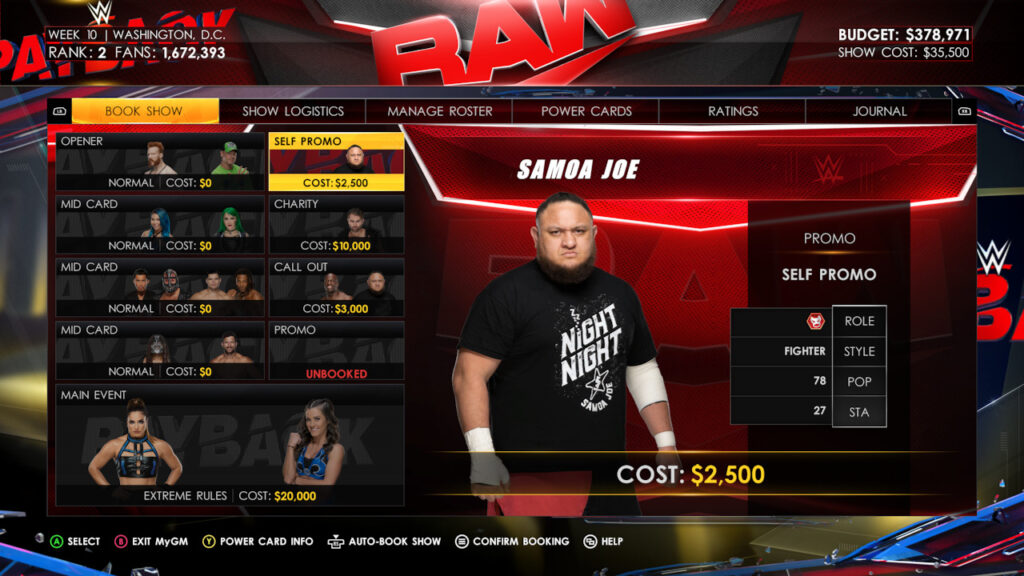 Now we have covered the basic modes, let's take a little deeper look at my experience with WWE 2K22.
First off, for those who are pushed for time, or simply want to hear the verdict without any more preamble, this game is good. It is very good.
I spent most of my time playing MyGM and MyRise. I also spent way too many hours browsing the online create a wrestler store.
I played through several different MyGM campaigns, managing Raw, Smackdown, and NXT in the process. Not that that means much, as before you start setting your match card, you have a superstar draft. However, the arenas and the page designs are brand-oriented. At this point in time, NXT is still the old black and gold version of the brand.
This is a very enjoyable game more for those who want more than just wrestling. You can of course fight every match on the card you create, however, I ran it fully GM simulation. I let the 2K gods decide my fate.
The mode was far more challenging than I initially expected. There is a lot to juggle.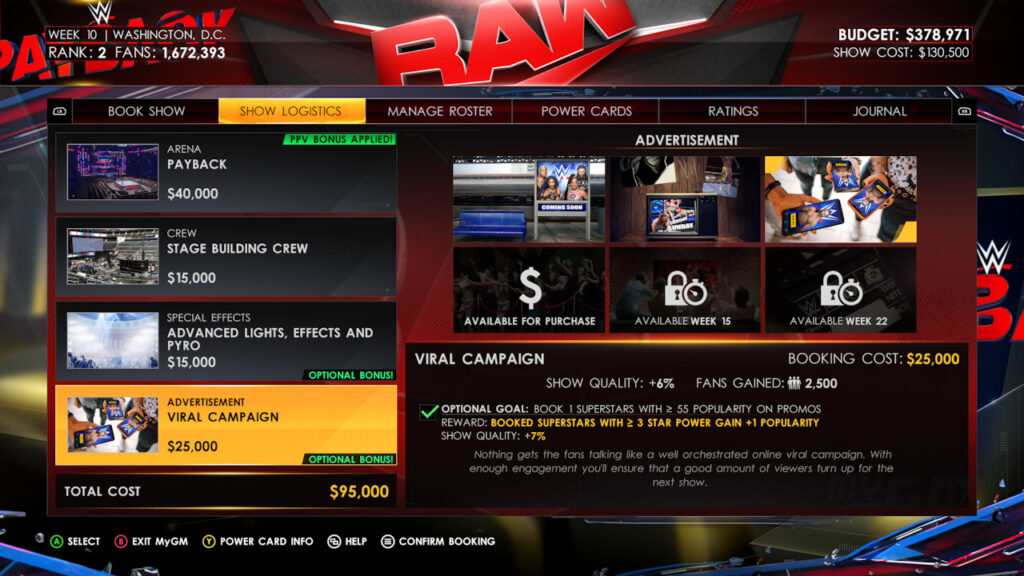 Fan Appreciation
Fans want to see good matches, they want to see rivalries build and culminate at a PPV. They want to see variety and correct type matches. The more you please the fans, the more your brand reputation builds and the more people want to watch your shows.
Health and Fitness
You need to manage your wrestler's health and stamina. Fighting every week takes it out of them, so your card will often be hit by injury or a requirement to rest and rotate. Which sounds easy when you only have 4 matches to plan (except for PPVs). However, when you factor in the above, it gets hard fast.
HHH Goals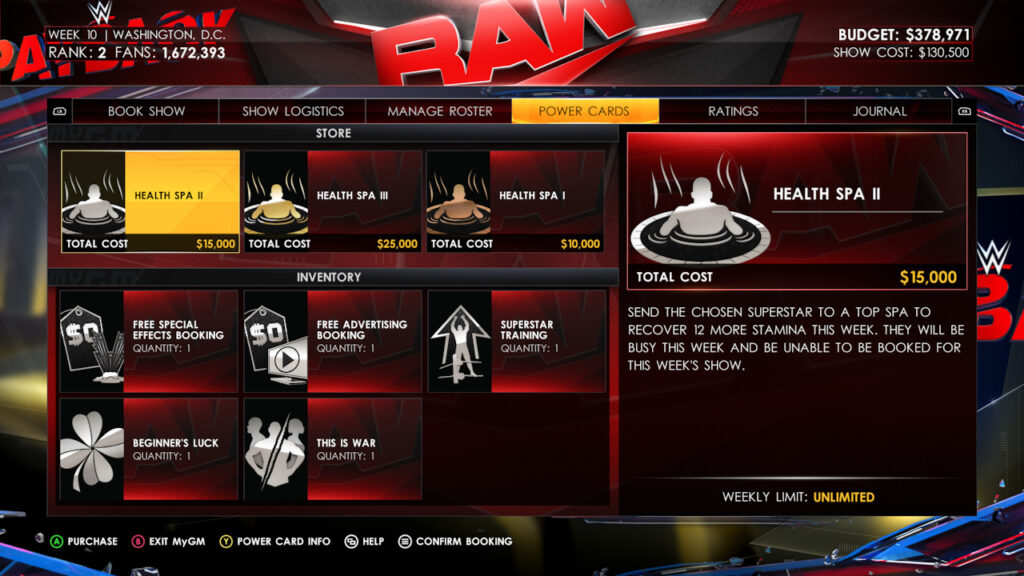 As a GM you answer directly to HHH. Each week you will be set a 'commissioner goal' which if met, rewards you with a bonus of some sort. Most weeks this is easy to accomplish, but some weeks really mess with your plans. Now, this is an optional objective, but I liked to try and make it, because the rewards were usually worthwhile.
Feuds and Wrestler Requests
On top of that, you have to manage and build your feuds between superstars, trying to have them build and culminate at level 4 in time for your PPV.
I would like to see a less rigid and wooden interaction system in the future. Something a little closer to the fluidity of interactions in MyRise mode. Everything was black and white when talking to the superstars, and sometimes, their requests mismatched the game, and all it would take to keep things real would be an option other than a hard yes or no.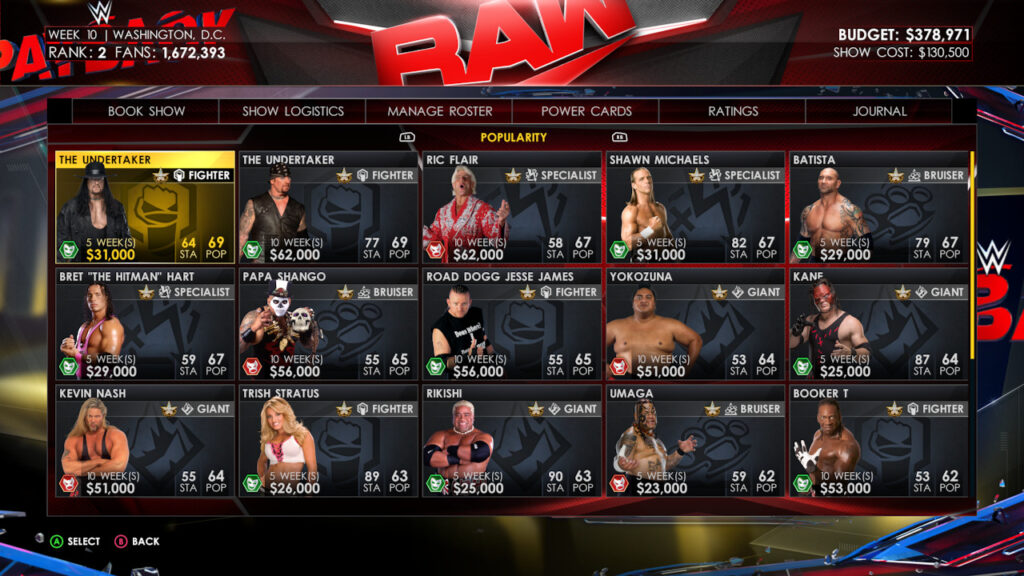 Pro Tip – Use the Call Out promo to enhance feuds without having your guys fight. It usually goes down well with fans and helps preserve their stamina. I liked doing this to go from level 3 to 4 the week before my PPV. Ensuring my feuding stars were in as good condition as possible for the big final match.  
Calling Tech Support
As often seems to be the case with 2K games, there were a plethora of issues in the early going. I was lucky enough to have early access to the game, but this did mean a few issues were present that were fixed come launch day.
None of the problems were game-breaking, and all were a far cry from the disastrous affair in 2019. It also has to be noted and commended, that there were regular patches released that fixed a lot of the early problems.
Sometimes You Just Need to Laugh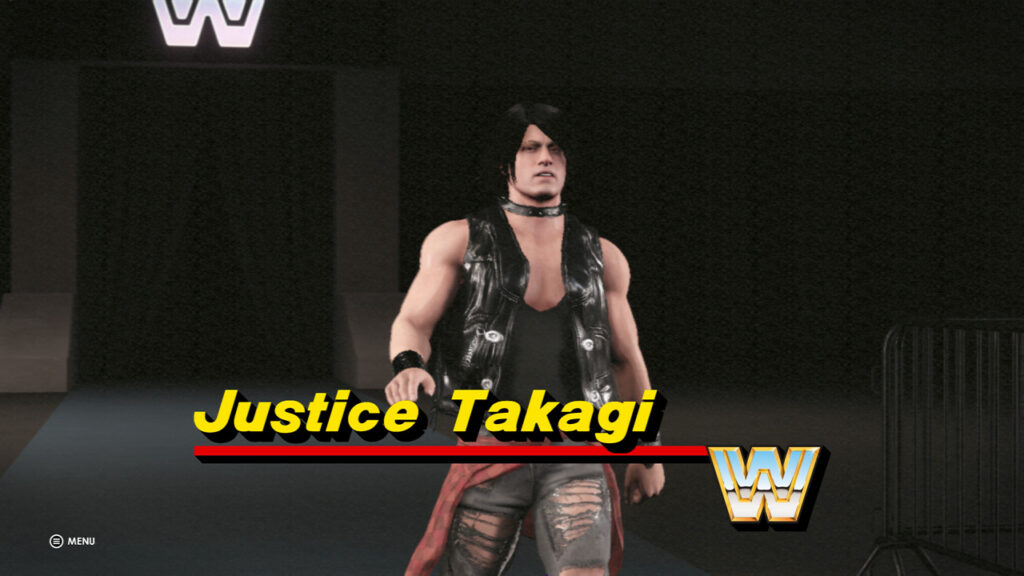 From my experience, the worst of them were to do with the downloaded CAW items, image repository thresholds, and other such backend items. A few balance issues and AI problems were also tackled early on.
The most frustrating (and entertaining) bug I found was during a simmed Hell in a Cell match. It was during the MyGM mode, and I wanted to watch the main event of my card. I forget the wrestlers, however, the game never ended. The wrestlers made their way to the top of the cell and spent 45 minutes throwing each other off but never coming down for the pin.
The inability of AI to end a match was present in the 2019 version of the game, and while I hope it has since been repaired, I'll admit that I have not tried a repeat since encountering the problem.
A Much Better Offering but Room for Improvement
While there is no denying that WWE 2K22 is a vastly improved game compared to their previous offering. However, we can all agree that it would not have been hard to do that. 2K22 is a solid game and it is very fun. However, it is lacking in several areas. Relatively minor things that would not be hard to introduce, and in some instances are already in the game, but not in the right (all the necessary) places.
For example, in MyGM, you are restricted to singles and tag team matches only. It would be fun to have a few more options, such as handicap matches, fatal four ways, and elimination matches. Some of these exist in the general game, but not in MyGM mode. It would go a long way in enhancing the mode and making it even more immersive.
The same goes for heel and face turns. You can't turn a tag team in one go, which breaks the dynamic of things. You can't have someone do a run-in or turn heel during a promo and then fight that night, or even 'run-in' or interfere in a match and then turn heel in the next promo slot. You have to wait a week.
These are small things but tweaking them doesn't seem that hard, and would go a long way to making MyGM mode even better.
Also, they rely on type matchups and claim a star rating is in effect, but that doesn't seem to be true. I've seen local talent get a 4-star rating versus my own HIAC match between two top-level superstars – with a type match bonus. They are minor inconsistencies that take away from the skill in being a GM and take it into the realms of just booking the over-the-top, and fantastical.
Conclusion
WWE 2K22 is a great game. I loved every minute I spent playing it, and will continue to play it almost daily. I enjoy every mode – even MyFaction – and have a lot more I want to accomplish.
However, now that 2K has righted the ship for this installment, I do have my sights set on a vastly improved game in 2023. As I said, no major changes, but small, high-value tweaks that make the game far more realistic and immersive.
If you're on the fence about getting the game, I sincerely hope you give it a try. It is worth every penny, and whether you play alone, or with friends, there is much fun to be had.
Rapid Reviews Rating
4.5 out of 5
4.5
You can get your copy of WWE 2K22 from the Xbox store today.