Hot Wheels Unleashed Review
Reading Time:
4
minutes
Fast Facts
Hot Wheels Unleashed

Developer: Milestone S.r.l.
Publisher: Milestone S.r.l.
Website: https://hotwheelsunleashed.com/
Genre(s): Racing, Arcade, Family
Platform: Xbox Series S (Also available on Xbox One, Xbox Series X, PS4, PS5, PC and Nintendo Switch)
Age Rating: PEGI 3
Release Date: 30.09.2021
Price: £39.99

A code was provided for review purposes
Choose your vehicle, assemble your track and get ready for ultimate speeds with Hot Wheels Unleashed. Does this game race for victory or should it be left at the starting line? Find out in this Rapid Review.
Miniature Motoring
I've always enjoyed playing games that shrink the player in order to make the world seem supersized. From enjoying this year's It Takes Two to fond memories of playing the 2010 DS Toy Story 3 game, experiencing the world from a new scale is very intriguing. After playing developer Milestone's simulation racing games MXGP 2020 and Ride 4, I eagerly awaited their more arcade-inspired take on the Hotwheels formula. With fantastic visuals, well-realised environments and a seriously impressive vehicle roster, Hot Wheels Unleashed certainly lived up to my expectations!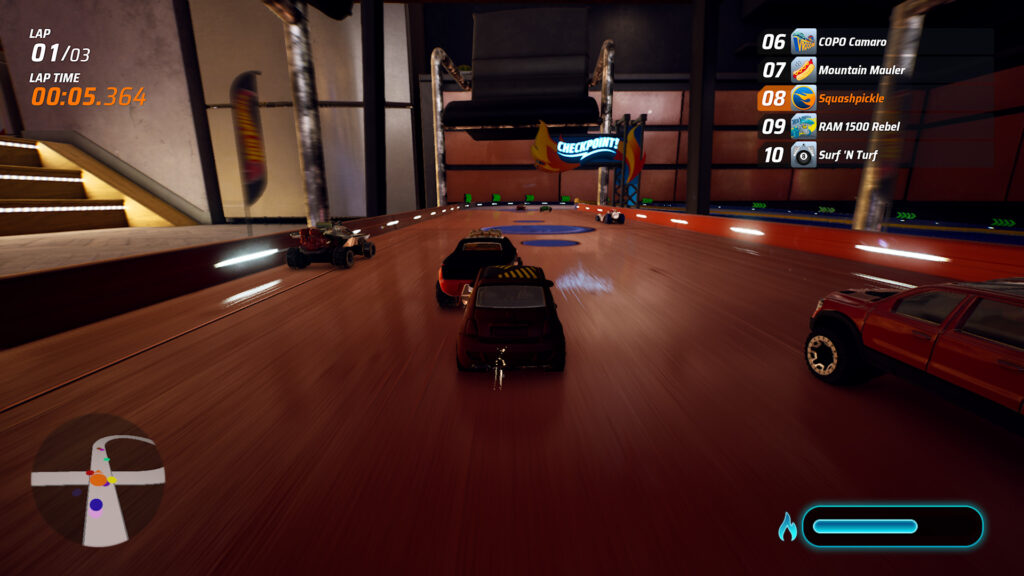 Getting to Grips
If you're familiar with previous Milestone racing games, you'll be aware of the challenge that games from this developer pose. With precise controls, my past experience with Milestone games required pinpoint control and handling to succeed. In Hot Wheels: Unleashed, Milestone continues its standard of a challenging but fair approach to difficulty. When I first started the game on the default medium difficulty, I quickly had to move down to easy in order to get to grips with the general handling.
Leaving the simulation genre of previous titles, the arcade nature of Unleashed means that drifting is important and nitro boosts are the key to victory. Once I'd understood the responsive handling and friction of the cars, I moved up to Medium difficulty and welcomed the challenge. Surprisingly, given the family appeal of Unleashed, the difficulty – even at easy – may be off-putting for younger children and some further assists would be welcome for those that require them. As for my experience though, with my attempts of time trials in the main campaign mode "City Rumble" often finishing with just tenths of seconds to spare, I loved perfecting the tracks.
Track To Basics
With the signature neon orange colour scheme of the Hot Wheels brand, the course layouts of Unleashed see the race tracks winding, turning and looping through a variety of recognisable supersized environments. My personal favourite was 'Skyscraper', a fantastical layout that saw my cars winding through the scaffolding of a skyscraper before launching above the clouds in a free-fall towards the landing track. With the majority of my time spent on the City Rumble campaign, I did experience many of the tracks numerous times but I never became tired of the surprises each location offered.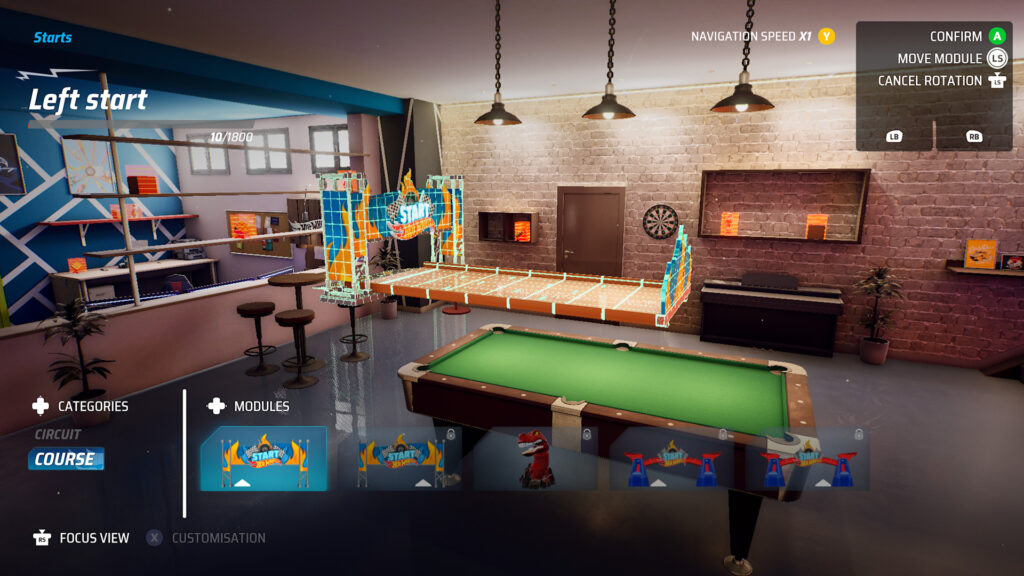 One of my favourite elements of the track was the reappearance of Hot Wheel's signature 360-degree loops. In the same way that watching a Hot Wheels vehicle complete a full loop wowed me when I was younger, so too was I impressed watching my digital car gain enough speed to complete the entire manoeuvre. With the physics of the game, I even found that not saving enough nitro to give me a speed boost before being upside down caused me to completely drop off the track and hurtle towards the ground. On top of the included tracks, Unleashed also includes a very comprehensive track editor which works on a snap-based modular system that was similar to rollercoaster designing in Frontier's Planet Coaster.
The Cars are the Star
Controversially, Hot Wheels: Unleashed utilises a mystery loot-box system to car unlocks in the way of Blind Boxes. However, I quickly learned that the campaign constantly provided me with free blind boxes and unlocks. So I never felt the need to use microtransactions towards the game. The mysterious nature of progression was interesting. Due to the sheer variety of Mattel's licences and designs, each of the unlocks was a surprise. My favourite vehicles were the Roller Toaster (Yes, that's a toaster on wheels) and the truck/dinosaur hybrid: the triceratruck. Whilst I enjoyed the unique designs, it was interesting to see a variety of real-life car brands. The appearance of the Fiat 500 within a Hot Wheels game certainly came with some surprise!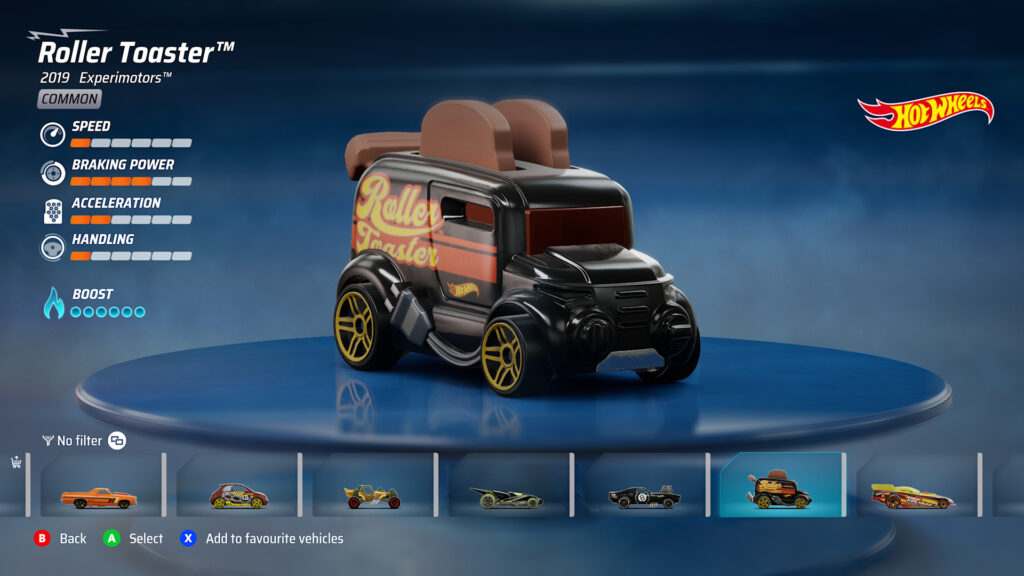 With near photo-realistic designs, I absolutely loved discovering new vehicles to add to my arsenal. The fantastic graphics are also shown within the track and environment design so Unleashed truly shines with gorgeous reflections and texture-work running at a superb 60 frames per second.
Summary
Overall, Hot Wheels Unleashed provides enormous fun, evoking the same physics-defying wonder I experienced as a child. Though the difficult challenge may be off-putting for younger players, Hot Wheels Unleashed sits on the podium as one of my favourite racing games.
Rapid Reviews Rating
4.5 out of 5
4.5
You Can Purchase Hot Wheels Unleashed for £39.99 on the Microsoft Store