Casual
,
Game
,
Gaming
,
Playstation
,
PlayStation 4
,
PlayStation 5
,
PS4
,
PS5
,
Rapid Reviews
,
Reviews
,
Simulation
Two Point Campus Review
Reading Time:
6
minutes
Fast Facts
Two Point Campus
Developer: Two Point Studios
Publisher: Sega Europe Ltd
Website: http://www.twopointcampus.com
Genre: Simulation
Platform: PlayStation 5 (Also available on PlayStation 4, Xbox Series X/S, Xbox One, Nintendo Switch and PC)
Age Rating: PEGI 3
Release Date: 9/8/2022
Price: £34.99

A code was provided for review purposes
Build the university of your dreams with Two Point Campus, the sequel to the multi-million selling Two Point Hospital. Build your university, your way! Two Point Campus is jam-packed with new creative tools to help you run an academic institution packed with wild courses. Build, hire staff and nurture your students through the best years of their lives.
It's time to spin academia on its head!
Addicted To Simulation Games?
Are you obsessed with simulator games? Do you play games like House Flipper and Zoo Tycoon on the daily? If the answer is yes then you will understand how excited I was when Two Point Campus was announced. I often remember growing up watching my brother play Theme Hospital on the trusty PS1. That's probably what started my addiction to simulator-type games in the first place. When a spiritual sequel called Two Point Hospital was released, I lost many hours trying to help and cure patients with unusual illnesses such as 'Misery Guts' and 'Mock Star'.
The same can be said for Two Point Campus.
I launched the game and told myself that I would only be gaming for an hour and before I knew it, several hours went by and I completely lost track of time.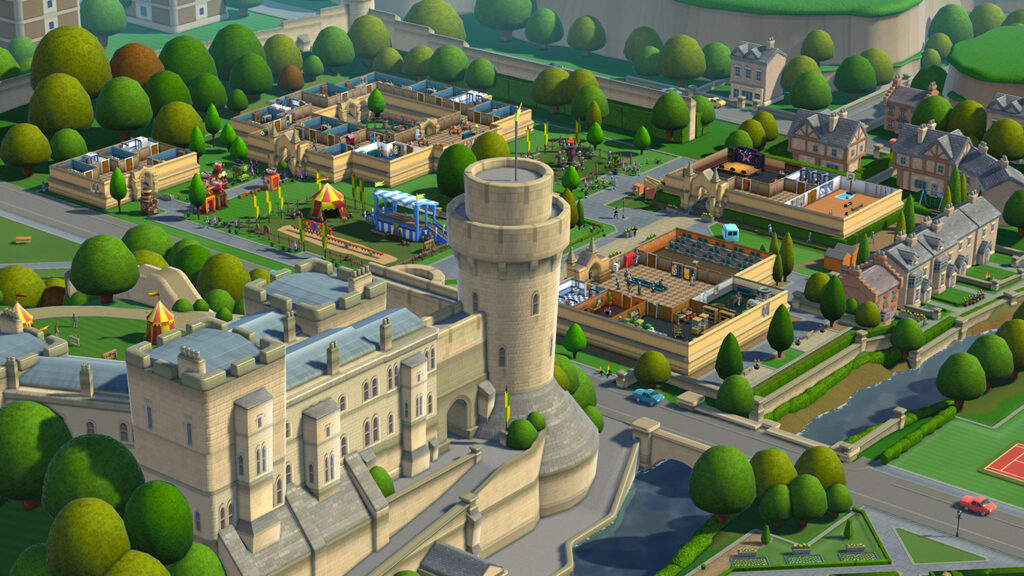 Design Your Campus
I started with one of the two modes which was the primary campaign; during this, you will encounter twelve different campuses, each with its own unique set of challenges and objectives to complete. To achieve three stars on every campus, you will need to invest quite some time and make the game's objectives a priority. Although you have tasks to complete, I found they helped me get up to speed with the controls and how everything works in the game without a penalty to what happens during the gameplay as much. I was able to come back another day to the game and be reminded of where I was up to and what I had to do next.
However, if you don't like being told how to run your campus, there is the sandbox mode where you are offered more choices in how you run things at your establishment. To unlock this mode, you will have to play some of the campaign and reach at least one star on the fourth campus. Within Sandbox mode, four game settings are available to you; standard, creative, challenge, and custom. Standard provides a balanced experience with some challenges being thrown your way. The creative mode provides more freedom over your campus without worrying too much about finances. Challenge is set up to offer players a more challenging experience and custom is your way to play. You set the challenges that you have to meet. I was quite content playing the campaign the majority of the time, mainly for the story narrative of the mode but be sure to explore each one and see what is right for you.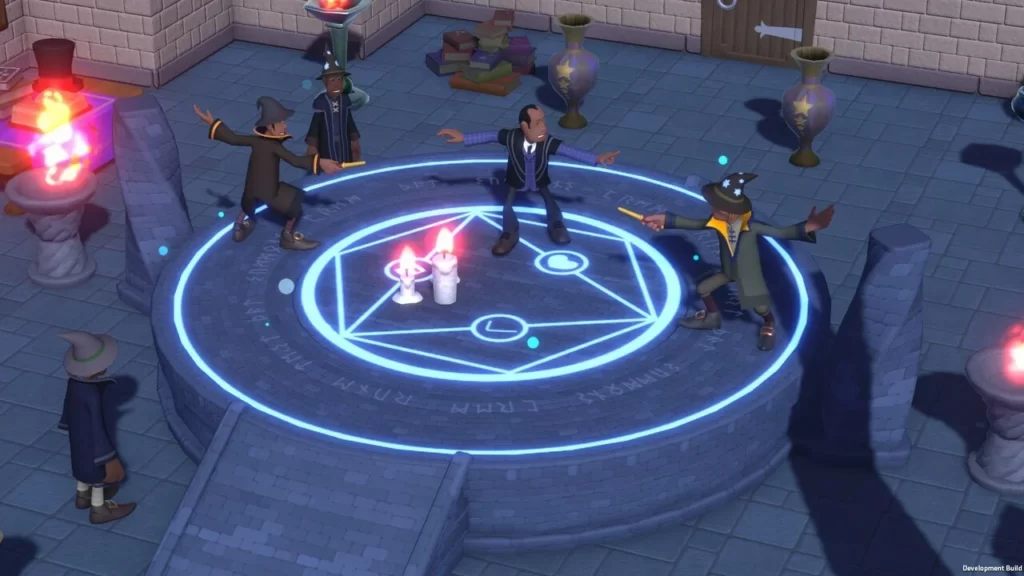 Too Similar to Two Point Hospital?
I know what you're thinking… Is it not just the same as Two Point Hospital with a different skin? While similar, there are some differences between the two.
Because of the nature of Two Point Hospital, patients would come and go once they were cured and well again. You only had a small amount of time with each person and therefore couldn't really 'connect' with them. In Two Point Campus, it is entirely the opposite. You watch as these students enter the campus, excel or fail at their courses, make friends, form relationships and so on throughout their time there. You spend a lot more time with them while on their multi-year course and help by providing the right tools and equipment for them to shine – From a textbook cubicle in the library to an arcade machine in the student lounge.
There are many similarities too however, you will find familiar indoor items for you to purchase with Kudosh (in-game currency), as well as some of the same features as Two Point Hospital such as visitors, awards and flash events. The gameplay is also still the same, you still have to create rooms with specific purposes, hire staff and fill your rooms with functional items to help boost your facilities rating.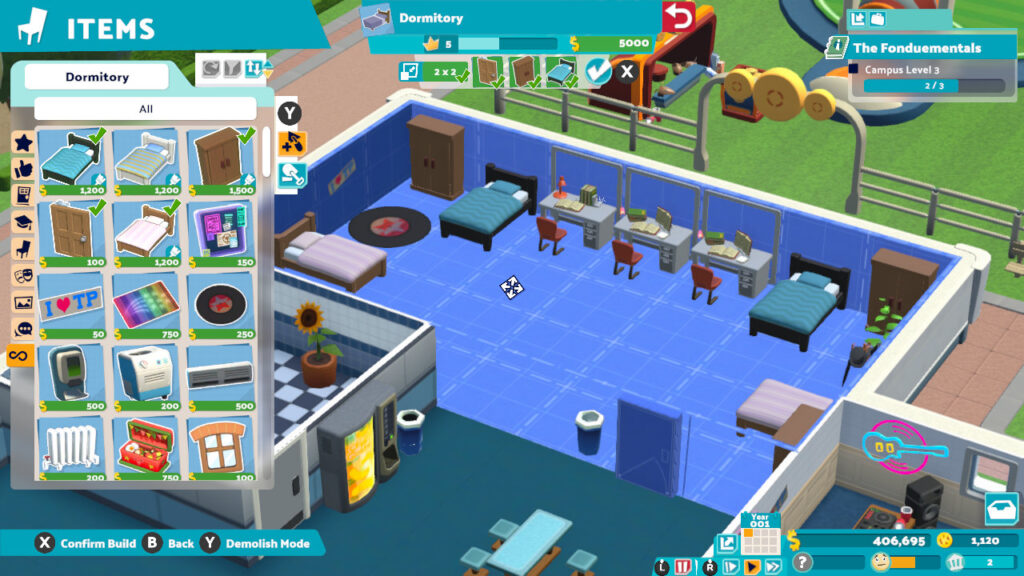 Work hard, Play hard!
What I love the most about Two Point Campus is that there are more than just the courses to watch over. There are rooms like the student lounge and a union room that you can build and manage. The student lounge is more of a central hub for all your students' leisure activities. It is a place for them to hang out and chill between classes, have something to eat and play some arcade games. There are plenty of items for you to look at to help encourage them to form friendships and have fun. If you want your students to work hard, then they're gonna have to play hard! You can run parties and provide entertainment for them.
One thing I learnt from playing was that students LOVE partying. I found myself having to schedule multiple parties every few minutes to keep my students happy. You can even run movie marathons in the lecture theatre! All of this will help give your students the motivation for their courses, which are far from boring. Think outside the box! Courses like virtual normality and wizardry are two of the many classes your students can enrol in. Each course comes with a recommended list of items and requirements to help you assist your students in the best way possible.
Funny Business
As well as having the most absurd classes you can think of, Two Point Campus is just as ridiculous and funny as its predecessor. Do you remember the intercom lady from Two Point Hospital? She's back! Funnier and wittier than ever! She reports incidents that have happened on campus for comedic value, as well as asking students not to do certain things. I found myself a couple of times listening to her run her mouth and laughing at her cheeky humour.
Students are free to dress how they want on campus and some take this a bit too far. Occasionally you will find nudist students in class, whether they are doing this as a sign of protest or because they hate wearing anything is unclear. They cover themselves with leaves and will participate in class as everyone else does. This is not something that I expected when I zoomed in to look at a science class when I was told one of my students was failing. Maybe they should focus more on their class rather than how their classmate turned up for it that day. Just a thought.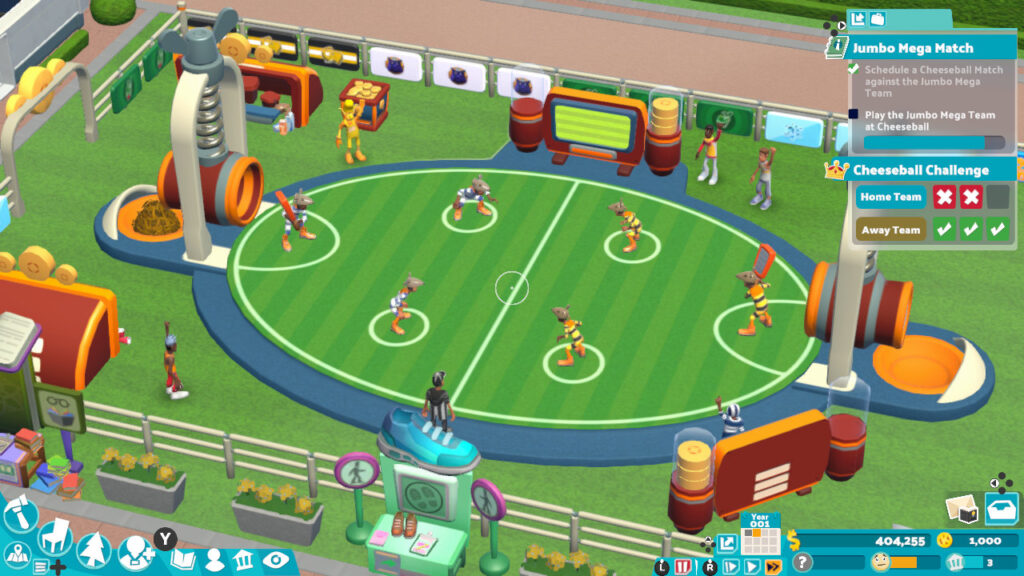 Summary
In my opinion, Two Point Campus is a solid and fun sequel that brought back many of the same elements that we loved before in Two Point Hospital. However, sometimes change is good when it comes to sequels. I don't quite think it changed enough to keep me hooked. After what seemed like an unhealthy binge session, it didn't quite have the ability to keep me opening up the game after a week or so. I feel like it needs something more to keep players coming back. Maybe in a few months, I may end up playing it again but there are more simulation games out there that have grasped and maintained my attention more than this one. I do recommend trying the Two Point games if you haven't already though, they are classics in their own right.
Rapid Reviews Rating

3 out of 5
3
You can purchase Two Point Campus on the PlayStation store here