TT Isle of Man – Ride on the Edge 2 Rapid Review
Reading Time:
5
minutes
Fast Facts
Title: TT Isle of Man – Ride on the Edge 2
Developer: KT Racing
Publisher: Bigben Interactive
Website: https://iomttthegame.com/index.html
Genre: Racing, Simulation, Sports
Platform: PlayStation 4, Nintendo Switch, Xbox One, Microsoft Windows
Age Rating: PEGI 3
Release Date: 19/03/2020
Price: £49.99 – Rapid Reviews was very kindly provided with a review code for this title.
If you are reading this review, then I expect you are already a motorcycle fan or have an interest in the Isle of Man TT race. For those of you who are not familiar with it then it is a 37.73-mile time trial of Snaefell Mountain Course in the Isle of Man. It is not a race for the faint-hearted. 
What we have here is a very niche video game that is all about the Isle of Man TT race, plus a few fictional racetracks thrown in to bulk it out. So, to start my review I will say that if you are not a motorsport fan at the least then this game isn't for you. If you have a passion for the Isle of Man TT, then this is going to be the game for you.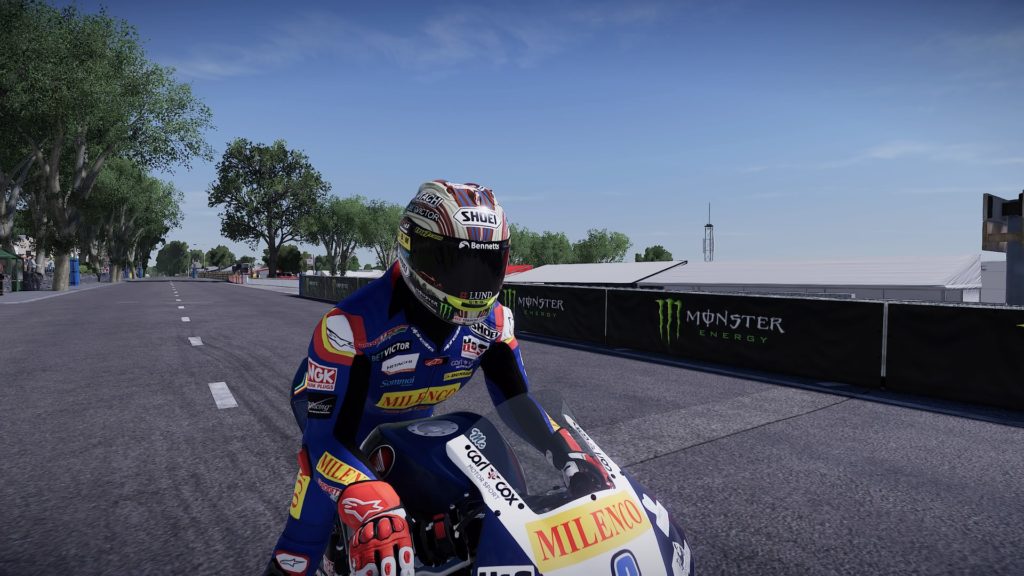 Don't fear if you have no bike riding experience, the game settles you in with a quick tutorial. On amateur the game just expects you to accelerate and brake in line with the route guidance. Step it up to pro and now you are expected to manage everything, and this is where previous experience is helpful. The game is very unforgiving, even on amateur you will very quickly achieve the Fall off 50 times trophy.
Career mode is where you will start off as you work your way through a series of races to earn cash, perk points and racing signatures for wins. By now we are all familiar with the career modes for 'racing' games. You are given a choice of events to compete in at different times that result in different races becoming available afterwards. Work your way through these to finally compete in the Isle of Man TT race.
Supersport bikes is the class where you will find your feet before moving on to the Superbike classes and Classic bikes. These add a little bit of extra play time if you want to take a classic bike out into free roam. However, it is hard to see you spending much time outside of the career mode and returning after completing that.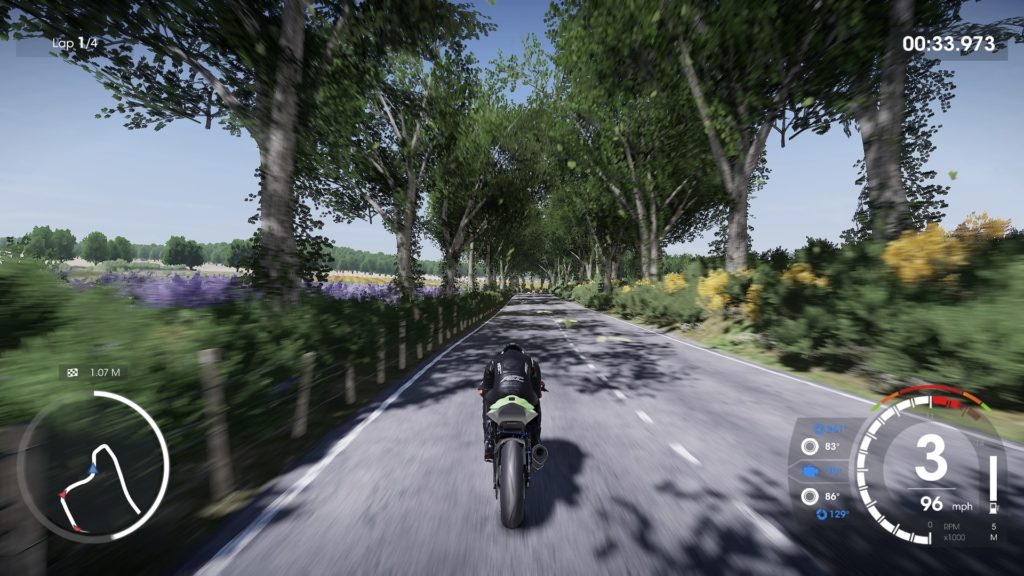 The tracks are visually pleasing and riding through the countryside is an enjoyable time. Some of this beauty is lost on the fictional circuits that just don't match the main tracks. The audio is pretty on point as well. Hearing the swoosh of the wind as you speed past trees and signposts really creates that sense of speed. The bikes engines are not overpowering so won't annoy you as you play.
It would be unfair not to mention the efforts gone into ensuring the TT race is as accurate as possible. The course was laser-scanned from start to finish to ensure every detail is capture for your enjoyment. Race the course enough and you will start to pick up landmarks and set braking points. Who knows you might find yourself doing the race one year?
It has to be said that the physics of the game seem pretty good. Clip a curb on the exit of a corner and you are off, too much speed over a hump and add another crash to your total. The bike feels good leaning into corners, the sparks coming from your knee protectors when you get a good lean is a great touch. There is a flow to the game when you start to thread corners together. But as mentioned before the game does not give you any second chances if you make a mistake. You can restart the race and lose 10% of the race earnings but when you consider some races are easily over 15 minutes a lap this is a hard lesson.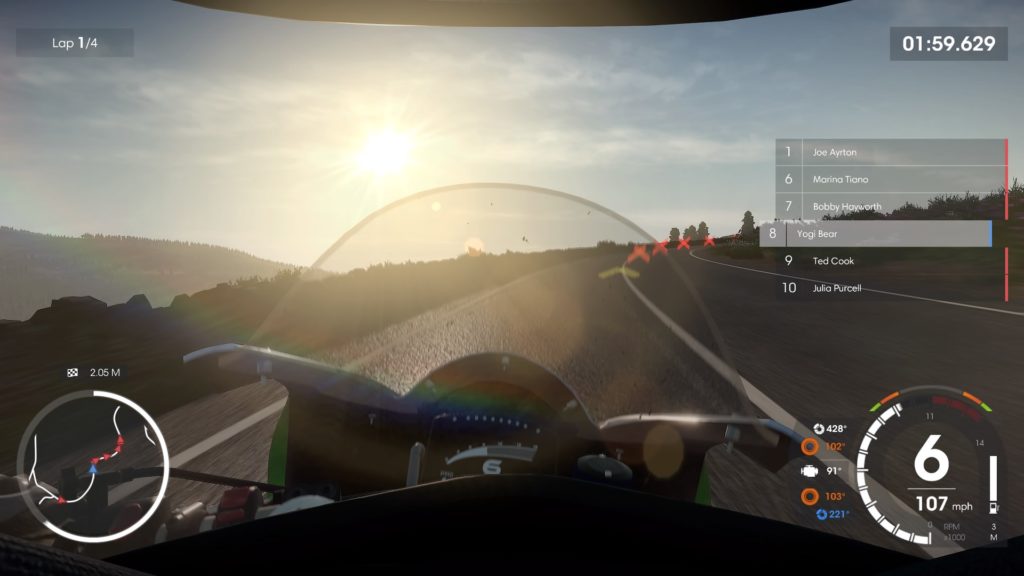 As you progress in the career you will notice that the games introduction hasn't really hit all the bases. Upgrading parts on your bike is important as you progress but not something you are pushed towards. Seems obvious but I didn't know you had upgrade options in the shop for a while. Perk points and perks you can select to have active in races are there but don't feel part of the game.
Outside of the career mode you have a challenges/free roam area and multiplayer. Free roam offers a large enough map to explore and attempt challenges as you go. Standard speed traps and timed sections are on offer. All of which will give you a chance to get more comfortable on two wheels. Multiplayer doesn't really hit the mark, so this game is likely a single player experience for most.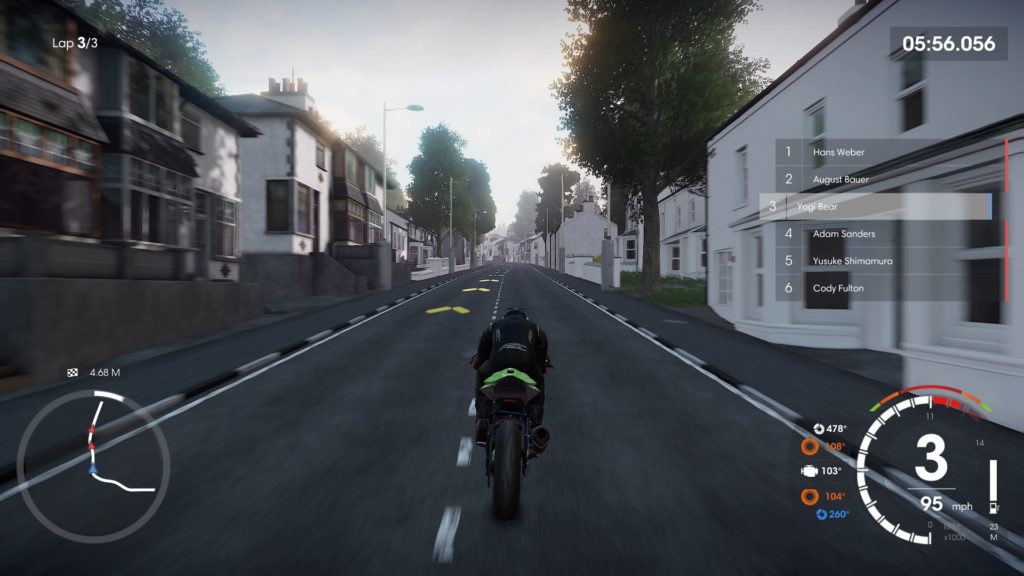 More and more nowadays you find games that are great at doing 1 thing really well. So, it raises the question of how you rank a game. TT Isle of Man – Ride on the edge 2 is a fantastic TT Isle of Man racing simulator. You won't find a game with a more accurate experience of that race. However, the multiplayer isn't that good in this game and it is really unforgiving. 
For me though the game has improved on its first title and stays true to the TT race at its core. Yes, they have tried to bulk out the game with some extras which may have missed the mark, but this hasn't taken away from the main game. Looking to experience the Isle of Man TT? This is the game for you then.
Rapid Reviews Rating
You can buy TT Isle of Man – Ride on the Edge 2 from the following stores: PlayStation Xbox