18+
,
Action
,
Adult
,
Adventure
,
Fighting
,
Game
,
Game Pass
,
Gaming
,
Rapid Reviews
,
Reviews
,
Series X
,
Xbox
,
Xbox Game Pass
,
Xbox Series X
Trek to Yomi Review
Reading Time:
4
minutes
Fast Facts
Trek to Yomi

Developer: Flying Wild Hog
Publisher: Devolver Digital
Website: https://www.trektoyomi.com/
Genre(s): Action, Adventure, Fighting
Platform: Xbox Series X (Also available on Xbox One, PS4, PS5, PC – Windows)
Age Rating: PEGI 18
Release Date: 05/05/2022
Price: £16.74


A Game Pass Gem
I had my eye on Trek to Yomi as soon as I saw it was coming to Xbox Game Pass. The trailer completely sold it to me, a black and white voyage fighting as a samurai in what appears to be feudal Japan. This was an adventure in which I felt compelled to partake. Read my Rapid Review below to find out if it lived up to expectations.
Please note that the videos in this review contain minor spoilers.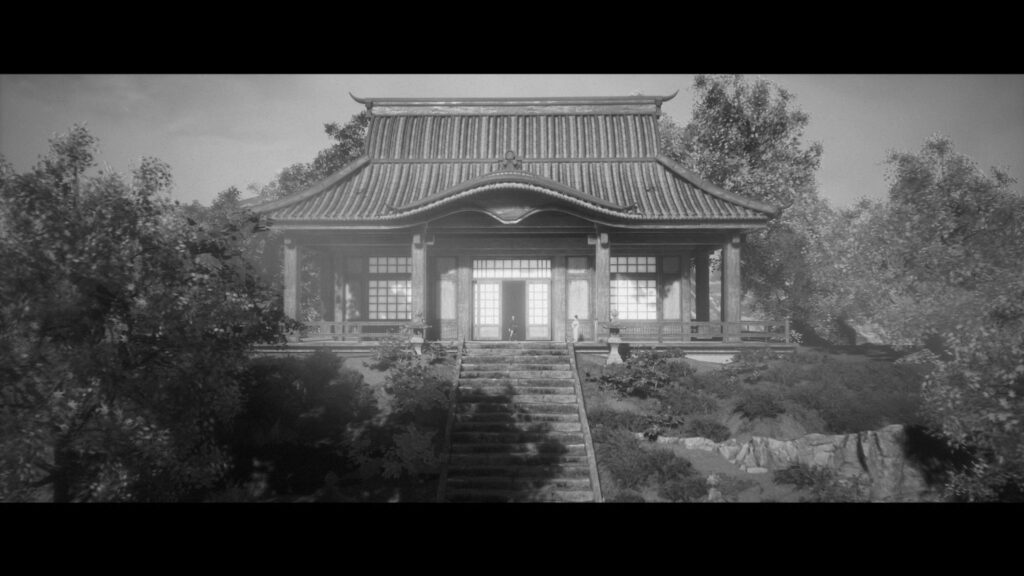 An Instant Hit
I won't hold you in suspense for very long at all, I adored every minute of Trek to Yomi. Even in moments of frustration, the game still captivated me. So, what was it that drew me in? From the moment I began playing, Trek to Yomi absorbed me with its atmospheric gameplay and storytelling. In my opinion, opting to use black and white imagery only adds to the experience, serving to emphasise the bleaker aspects of samurai life.
I'm a massive fan of games where the dialogue is in the original language. Therefore, for me, it was a big plus to hear characters conversing in Japanese and really helped to create an authentic-feeling ambience. Movement and fighting tutorials are delivered on-the-go which further helps to maintain immersion in the action.
Whilst the storyline is one we've seen before, the developers create a connection with the main character through his experiences of loss and early acceptance of duty in childhood. It is not difficult to empathise with Hiroki's plight as he is plunged into the role of dutybound defender once more as an adult. Collectibles offer a rich source of information about Japanese folklore and customs, adding yet another layer to this emotive tale.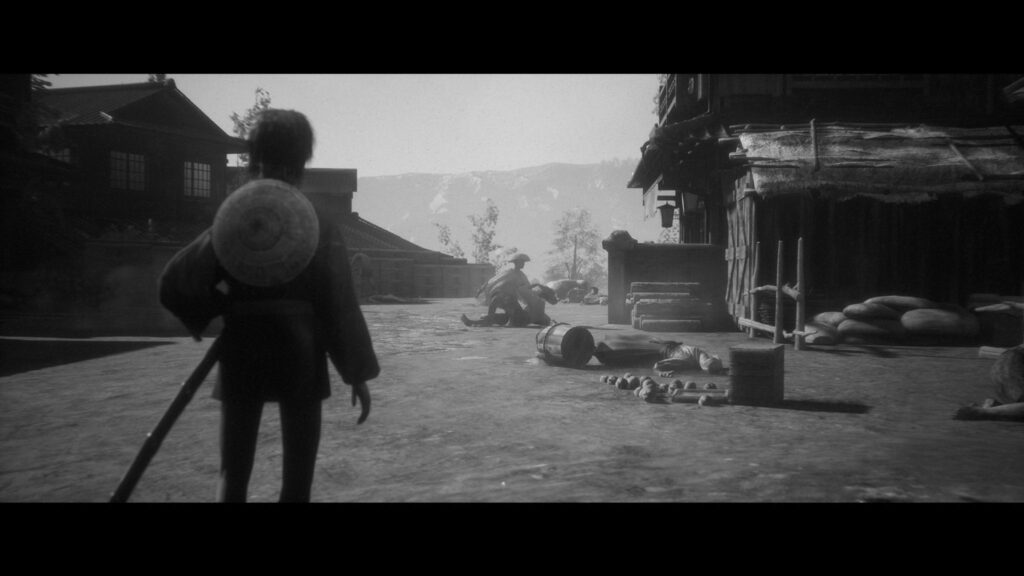 Audio
If you play the game with headphones on (which I strongly urge that you do if you enjoy feeling absorbed by a game's universe) it is immediately apparent that great attention to detail has been paid to bring this experience together. As you walk past burning buildings, the sound of crackling wood intensifies, the screams of injured and grieving villagers punctuate the wreckage, and distant sounds of clashing swords ring out intermittently. Without headphones, a less intense version is audible but with them on I could almost feel the heat of the flames licking at my skin.
As you progress, snippets of story are delivered through conversations with villagers and enemies. Cutscenes convey larger chunks of the plot, usually before boss fights and at the beginning and end of chapters. All of these scenes are accompanied by Japanese dialogue with subtitles. From my perspective, reading the subtitles while listening to the Japanese does not detract from the experience at all, but rather enhances it.
Fighting, Weapons and Collectibles
The combat style in Trek to Yomi demands at least a basic level of subtlety. I played on the medium level of difficulty and found that I needed to learn a repertoire of moves to get me out of a variety of situations. It's not a button basher. That said, I didn't need to learn every single move that I uncovered. I had the freedom to choose those moves that I found most useful, and it felt extremely satisfying to pull off even one of the most basic of them.
Some enemies can be defeated more easily with certain attacks. The selection of secondary weapons adds variety to combat, some providing a swift distraction whilst others deliver more devastating blows. At shrines you can replenish lost life and save progress. Hiroki finds these frequently throughout the game. Although, to uncover all that this title has to offer, you'll need to take a sometimes-meandering route through levels. At times you can only move left to right, at others you can move in a more multi-directional sense. This keeps you guessing about where to find collectibles, upgrades, side weapon top-ups and sometimes even shrines.
Another element of the game that keeps you guessing is how much life each individual enemy attack will drain. Whilst this can be frustrating at times – when you lose a fight after only taking a few blows – it does prevent the fighting experience from getting stale. Predictably, bosses can take off enormous amounts of life in one swipe and this increases with each boss you face.
Mature Content
Trek to Yomi contains scenes which could be disturbing to a younger audience (and to some older players). As such, I think that it deserves the PEGI 18 rating. It's a game which takes place in a period of Japanese history that is rife with violent and cruel acts. Consequently, there are some gruesome and harrowing moments as you fight your way through ransacked villages. However, these are portrayed tastefully and without glamourising the cruelty. An overall feeling of compassion for the people who have suffered at the hands of the invaders pervades.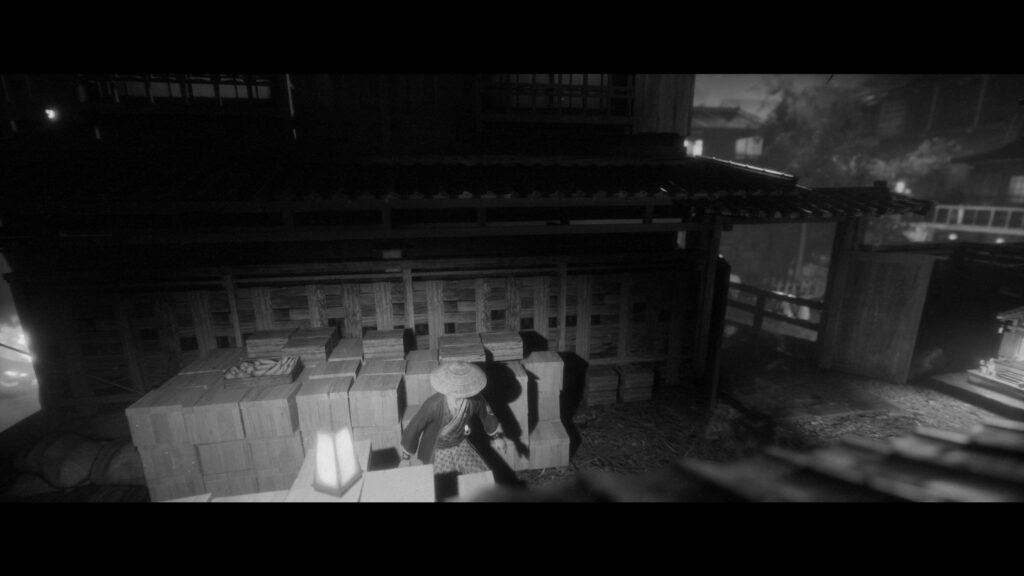 A Fight Worth Taking On
An offering for a variety of audiences, Trek to Yomi has left a poignant taste in my mouth. I enjoyed both the style of combat and the method of storytelling. With this title, the developers have created a feast for the senses. A game that has the power to submerge you in its depths through a combination of detailed artwork and realistic audio. Balanced combat that satisfies in both encounters with bosses and minor enemies alike, and requires a little finesse. With a relatively low price tag of £16.74 (or currently free on Game Pass), replayability provided by an unlockable difficulty level and achievements to hunt after – for me it's a no-brainer. Look no further for your next Samurai adventure.
Rapid Reviews Rating
4.5 out of 5
4.5
You can purchase Trek to Yomi from the Microsoft Store.