Super Mario Odyssey Review
Reading Time:
4
minutes
Game Details
Title: Super Mario Odyssey
Developer: Nintendo
Publisher: Nintendo
Website: https://www.nintendo.co.uk/Games/Nintendo-Switch/Super-Mario-Odyssey-1173332.html
Genre: Action, Adventure, Platformer
Platform: Nintendo Switch
Audience: PEGI 7
Release Date: 27.10.2017
Price: £49.99 – Rapid Reviews UK was very kindly provided with a review code for this title.
What the Developers say
Thanks to heroic, hat-shaped Cappy, Mario's got new moves that'll make you rethink his traditional run-and-jump gameplay—like cap jump, cap throw, and capture. Use captured cohorts such as enemies, objects, and animals to progress through the game and uncover loads of hidden collectibles. And if you feel like playing with a friend, just pass them a Joy-Con™ controller! Player 1 controls Mario while Player 2 controls Cappy. This sandbox-style 3D Mario adventure—the first since 1996's beloved Super Mario 64™ and 2002's Nintendo GameCube™ classic Super Mario Sunshine™—is packed with secrets and surprises, plus exciting new kingdoms to explore.

https://www.nintendo.com/games/detail/super-mario-odyssey-switch/
Introduction
Mario's back at it again, saving Princess Peach from the diabolical Bowser's clutches but with a unique twist, we can undoubtedly tip our hats to. For those unfamiliar with Mario's usual adventures, the evil monster Bowser kidnaps the virtuous Princess Peach, very, very frequently and it's up to Mario to save her. Mario will brave many worlds and jump on enemies in the way and not to forget the floating blocks to hit and coins to snag. There are also many power-ups to obtain, giving Mario a vast variety of powers to use at his disposal.
Mario has befriended his newest companion, Cappy, to obtain a new ability unbeknownst to Mario's typical adventures, he can possess his enemies! With the tiniest toss, Mario's hat will control objects and enemies alike as long as his hat lays on top of it. Control frogs, tanks, giant fists, dinosaurs and more! Bowser stands no chance this time!
Travel to many kingdoms, collect Power Moons by fulfilling different duties and good deeds to repair the Odyssey Ship and sail to more distant lands. Let's-a-go!
Audio & Visuals
The Mario series' music is both nostalgic and excellent, and Mario Odyssey is no different. While travelling from kingdom to kingdom, the good tunes will follow, providing both ambience and uplifting gaming experience. There's nothing better than the clonk of jumping on an enemy's head. The main theme is also a joy for the ears!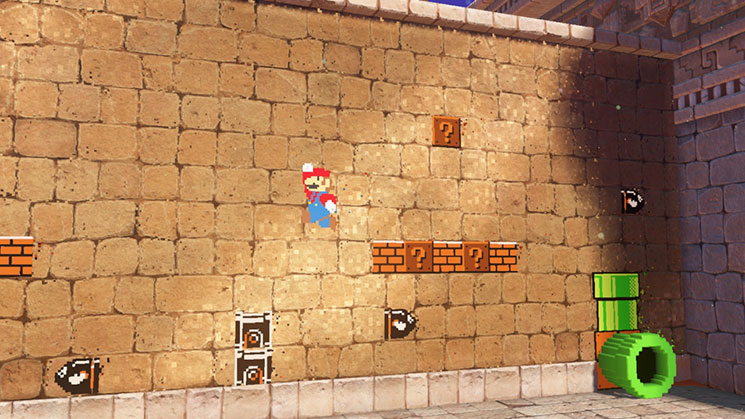 Mario Odyssey has been the debut of new and improved graphics for the Mario series on the Nintendo Switch, especially in the latest 3D era. Every character and every cutscene is beautifully detailed, and the scenery of the many lands truly support the 'Super' in Super Mario Odyssey. Every little aspect is captured beautifully frame by frame, which can only make us players hope for more in the future.
Gameplay & Replayability
Super Mario Odyssey is likewise to other Mario games, with the main story and side quests or collectables to complete and earn. After braving the captivating tale of Mario Odyssey, be sure to collect the rest of the Power Moons and check in with Toadette at Peach's Castle to ensure you have unlocked all achievements. Whether you're taking down Goombas to giant robots to Bowser himself, the new techniques provided by Mario's new friend Cappy will make battles a breeze.
There is an abundance of Power Moons to attain, so the player will be sure to work hard to net every single one. And not to mention the souvenirs, stickers and outfits to collect at the many shops, accessible with coins or unique purple coins, scattered across the multiple worlds and also a commodity to obtain, ensuring the player to return for more fun.
Conclusion
Super Mario Odyssey is certainly one of Mario's most prominent adventures to date, providing a seemingly endless amount of content. Nintendo once again seems to make the repeated gimmick of Mario saving Peach as enjoyable as ever. From new moves to new friends, this is a must have for any Mario fan.
When Mario Odyssey was announced, everybody was on the edge of their seats, waiting patiently to pounce at the next sight of gameplay, and the wait was worth it. This excellent adventure will truly make Nintendo enthusiasts as Happy as Cappy!
Rapid Reviews UK Rating
You can purchase Super Mario Odyssey from the Nintendo eShop at the following link, https://www.nintendo.co.uk/Games/Nintendo-Switch/Super-Mario-Odyssey-1173332.html