Reading Time:
4
minutes
Fast Facts
PACER

Developer: R8 Games Ltd
Publisher: R8 Games Ltd
Website: https://pacergame.com/
Genre: Combat Racing
Platform: Playstation 4 (Also available on Xbox One and Steam)
Age Rating: PEGI 3
Release Date: 22/10/2020
Price: £32.99

A code was provided for review purposes.
Getting PACER On The Grid
I have always been a fan of zero-g racing games. Titles like Wipeout and Extreme-G were big players in my childhood, nothing else matched the neon rush or mind bending speed of the genre. Now R8 Games are getting into the race with PACER, but will it rise to the challenge or slide off the track?
PACER has three main modes of play; quick play, career, and online. Quick play offers 8 different race modes to jump straight into. Career mode provides a varied and progressively challenging series of race events. Online allows you to race head to head against up to 9 other players.
First Off The Line
The first thing that stood out to me about PACER was the speed, it feels spine-snappingly fast! My reactions have slowed over the years, it took a while for me to stop slamming from one side barrier to the next. Once I'd adjusted, I started to really see the speed PACER has to offer.
The five race crafts in the game are varied enough to offer slightly different play styles. You can also customise each craft with a fairly extensive range of performance and handling options. These are unlocked with an in-game currency earned through finishing races and events.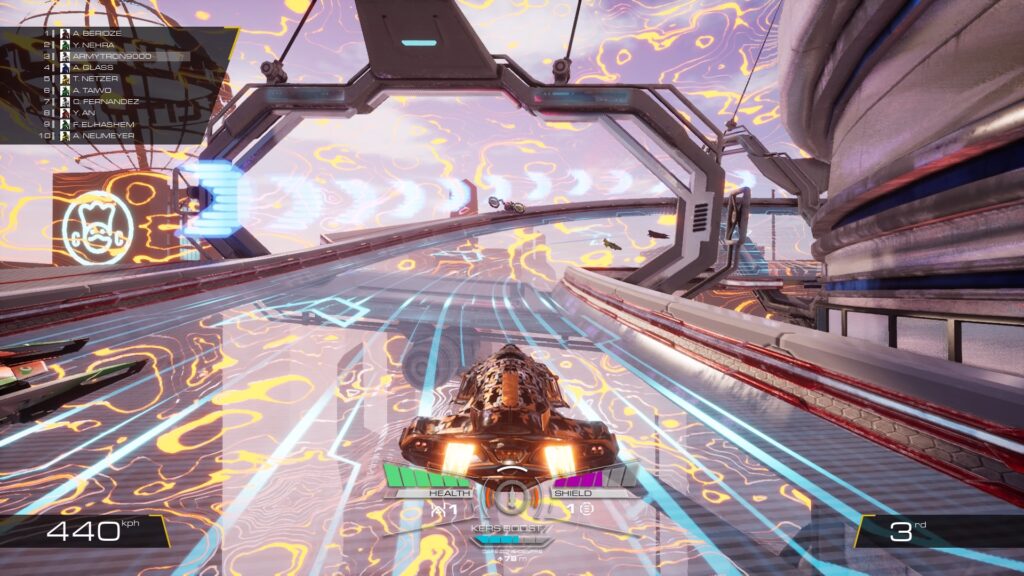 Each craft also has two weapon slots to fill. There are a number of offensive and defensive weapons to choose between: nano rockets, gauss cannons, electrical shockwaves, to name but a few. Every weapon has space for two modifiers, allowing them to be upgraded and tweaked in specific ways. Whether you want to fire projectiles, drop mines, or use tethers to slow down your opponents, PACER has you covered.
Keeping Track Of PACER's Tracks
PACER has 14 tracks to race around; they all play and feel very different from each other, and they all look fairly fantastic. They offer some great views as you fly around, my favourite being the track set around a Russian space base. Some real thought has gone into background design of the tracks.
As good as they look, the tracks in PACER don't always race so well. A few of them have some very unforgiving corners and layouts which take some getting used to. There definitely are some great little sections of exhilarating and smooth running track in this game. But they are rather few and far between.
Another area PACER falls short in is the weapons; they just feel ineffective and weak. When you hit an opponent with three nano rockets and they still don't explode into flames, it just feels disappointing. The choice and customisability of the weapons is great, it would be even better if any of them felt like they did anything. When I hit another racer with a shockwave, I want to see them take the hit and spin off the track. A momentary wobble just doesn't cut it.
PACER Server Silence
I'd like to be able to tell you about the online play and what it was like to race against other people head to head. But sadly, after days of trying, I never got into a single race. It's not a great sign to see such low server activity at this point in the game's lifespan.
One area I had high hopes for PACER was its soundtrack. Such a big part of what makes this genre of racing games so good is great music as you race. Wipeout definitely knew this. PACER tries to follow suit but just falls a bit short: its music tracks are a tad generic and uninspired for my taste. I never found myself latching onto a specific piece of music, it all just merged together in the background.
Rounding The Last Corner
At first glance, PACER certainly appears to have it all going on. It could even be the spiritual successor to Wipeout. But when you look a little closer and start peeling back the body work, it just isn't there. There's some good ideas at work here, and a few non-starters, but overall there is nothing to really separate PACER from the pack.
Rapid Reviews UK Rating

You can purchase PACER from the PlayStation Store