Leisure Suit Larry: Wet Dreams Dry Twice Review
Reading Time:
5
minutes
Fast Facts
Leisure Suit Larry: Wet Dreams Dry Twice

Developer: CrazyBunch
Publisher: Assemble Entertainment
Website: http://www.larrysmansion.com/
Genre(s): Adventure, Point and Click
Platform: Switch (also available on PlayStation 4, Xbox One, PC)
Age Rating: PEGI 16
Release Date: 18/05/2021
Price: £40.49

A code was provided for review purposes
Intro
2018's revival of the Leisure Suit Larry series was a little bit surprising. Whilst the original titles certainly weren't bad (I'll admit that I'm actually a fan), it was hardly a point-and-click series that was remembered as fondly as the likes of Monkey Island, King's Quest, and so on. Plus, it features a perverted and misogynistic protagonist – it's the sort of thing that doesn't sit so well with modern audiences.
Somehow though, developer CrazyBunch managed to re-invent protagonist Larry Laffer into someone more… well… likeable. Sure, he's still looking for love in all of the wrong places (and he still needs a little guidance in his methods), but this modern take on Leisure Suit Larry was a lot less seedy than the titles that came before it. Still perverse, sure, but nowhere near as blatantly as before.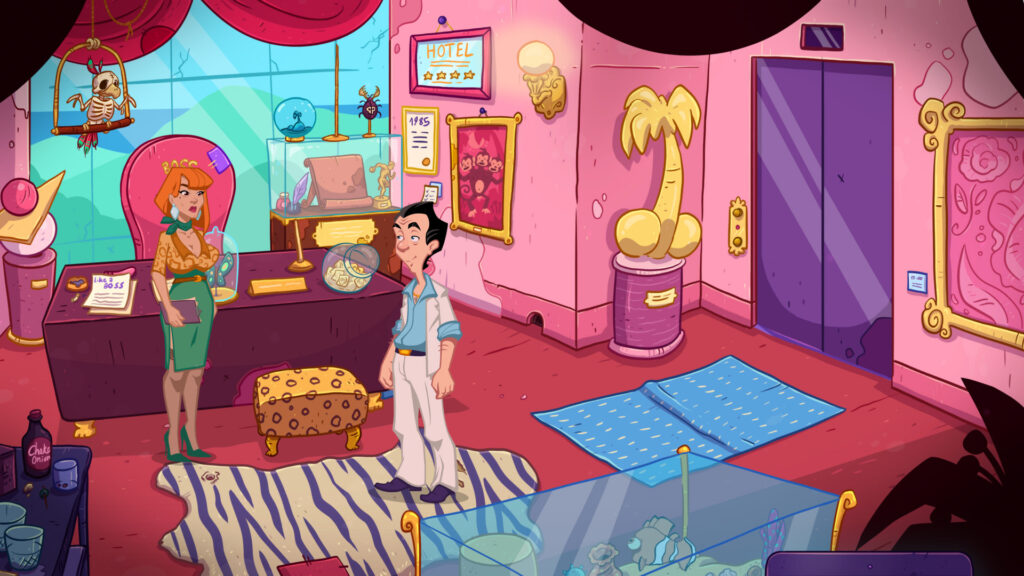 Now, three years on from that rebooted release, he's back to continue his pursuit for love. Does this end up as an enjoyable romantic endeavour, or should Larry have stayed in gaming history?
Looking For Love (In The Wrong Places)
Leisure Suit Larry: Wet Dreams Dry Twice continues directly from the end of its predecessor, Wet Dreams Don't Dry. After the 'love of his life' Faith Less ends up swept out to sea and presumed dead, Larry finds himself marrying the daughter of the most important man on the aptly named island of Cancum. I would consider that a win myself (Larry's hardly the world's most appealing bachelor), but when he finds out that Faith is still alive, he decides to pursue her instead. With his trusty AI-enhanced smartphone in tow, he heads out to find her.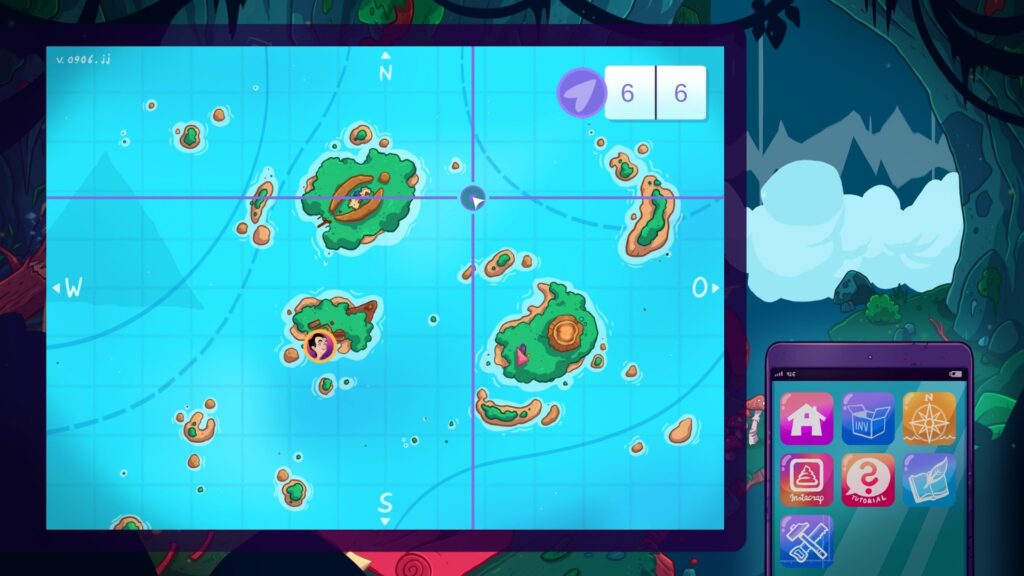 The story gets sillier and sillier from there, but it's always a lot of fun. Wet Dreams Dry Twice pokes fun at both modern society and itself throughout, which is always easy to appreciate. Of course, it's full to the brim with sexual innuendos too – whilst some of these are over the top, they never feel distasteful or offensive. I mean, it's Leisure Suit Larry… you KNOW what sort of adventure you're signing yourself up for.
It is worth pointing out that there is a lot of sexualised content though. I mean, you've only got to look at the screenshots to see there are phallic shapes everywhere. Plant in the background? Phallic. Statue in the distance? Phallic. Pillow on the bed? Yep, you guessed it, it's phallic. Giant plant? Actually, that looks more like a lady's bits, but you get the picture. Wet Dreams Dry Twice certainly isn't for prudes, but even I'll admit I felt better knowing others couldn't see my Nintendo Switch screen when playing.
New Larry, Old-School Puzzling
Whilst Larry himself has 'changed' from his old ways, the gameplay of Wet Dreams Dry Twice will feel familiar. Carrying on from the previous game (and the adventures that the series originated with… let's forget the awful spin-offs), Wet Dreams Dry Twice takes a point-and-click adventure approach by sending players across a myriad of colourful environments that are packed with items to collect and puzzles to solve. Those puzzles typically require the items the player has collected to solve, though not always in a conventional manner – players have to THINK outside of the box in their approach to puzzle-solving. Anyone who has played a game in the genre before will know what I mean, with unconventional means often required to overcome what should be the simplest of obstacles.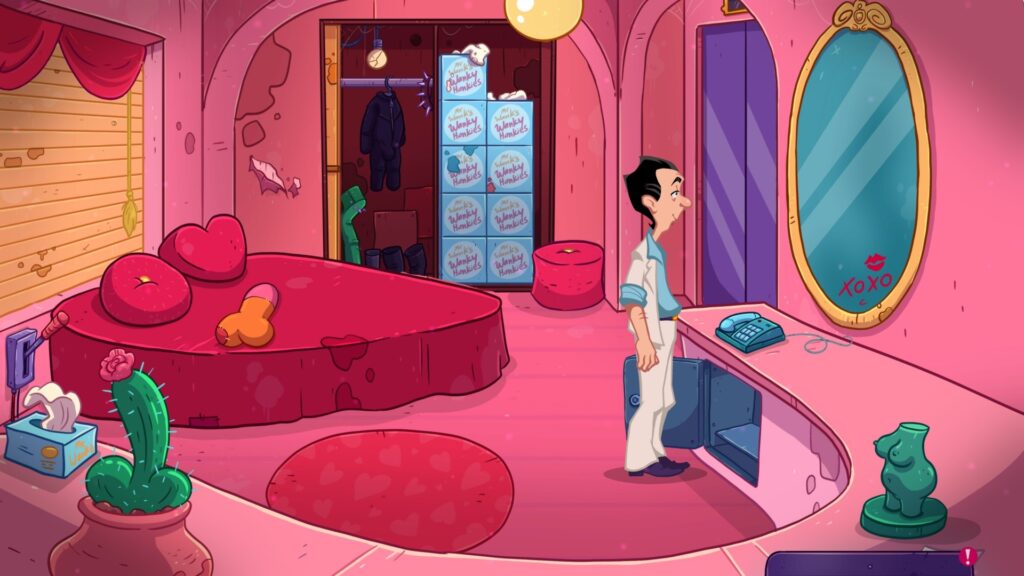 Ever play a point-and-click adventure and try using every item on every object as a means to progress? You can probably expect to do that here too. Wet Dreams Dry Twice certainly isn't a cakewalk as far as the genre is concerned, with plenty of its kooky conundrums proving perplexing thanks to the game's unconventional approach. The worst part is that when you FINALLY figure out the solution to a puzzle, it feels obvious and like the answer has been right in front of you the whole time… it's just not always easy to see it straight away.
Perplexing Puzzle Solving (But In A Good Way)
It might sound like I'm hating on the puzzle design, but I actually really liked it. Whilst sometimes baffling, nothing in Wet Dreams Dry Twice ever felt overly obtuse. Instead, it delivered a fine balance with its difficulty where players will be left completely stumped at times, but just having to experiment a little or re-tread their steps to figure out what they need to do. Sometimes it's a bit more obvious what you might need to progress thanks to the blueprint system, which gives players a clue as to what items they will need. It won't tell you where to get them, but it will still prove useful.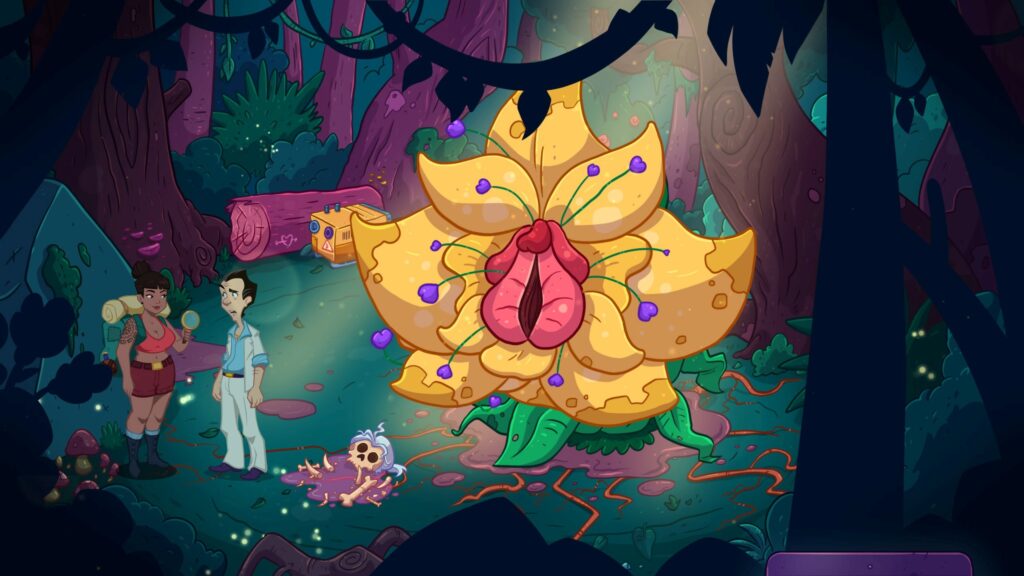 What's also useful is Larry's 'To Do List', which keeps track of player's objectives. It's a small touch, but I've been guilty of forgetting what I was doing in the past – this alleviated that problem and ensured I stayed on the right track throughout. Players can also press a button to highlight any interactable objects or items in the environment. It might feel a little bit cheap, especially to old-school fans of the genre, but it ensures players won't miss anything that might be hidden away in busy environments.
Conclusion
Whilst Wet Dreams Dry Twice can be crude, its satisfying puzzle design and the quirky story kept me entertained throughout. Some moments had me genuinely chuckling out loud to myself, whilst I even found the phallus-based environmental design (those are words I never expected to have to put together) funny too. I'm a childish guy, alright!
It's the most inoffensive that the series has been, but it's probably worth noting that Wet Dreams Dry Twice might not be for everyone. Whilst Larry is a 'better' man than he was, the error of his ways can still be obvious. If that doesn't sound like your cup of tea, I'd probably steer clear of this adventure.
For everyone else, you can expect an experience that's finely designed and takes a different approach to the norm. Wet Dreams Dry Twice doesn't try to evolve the genre, but instead offers a quirky escapade that embraces it.
4 out of 5
4
You can purchase Leisure Suit Larry: Wet Dreams Dry Twice on the Nintendo eShop here.