Action
,
Adventure
,
First-Person
,
Game
,
Gaming
,
Horror
,
Indie
,
Indie Dev
,
Reviews
,
Xbox
,
Xbox One
,
Xbox Series S
,
Xbox Series X
Last Days of Lazarus Review
Reading Time:
4
minutes
Fast Facts
Last Days of Lazarus

Developer:  GrimTalin, Darkania Works
Publisher: GrimTalin
Website:  https://grimtalin.com/lazarus
Genre(s): Action & Adventure
Platform:  Xbox Series X/S (Also available on PC and Playstation 5)
Age Rating: PEGI 16
Release Date: 28/10/2022 (29/11/22 PS5)
Price: £16.74

A code was provided for review purposes
Last Days of Lazarus is a first-person adventure game with a strong narrative, rich visuals, and supernatural elements. It is heavily inspired by post-communist Romania's troubled history, eerie locations, religious beliefs, and strange superstitions. As the story unravels, you'll meet questionable characters whose corrupted version of the truth you'll need to navigate. Considering this troubled past, you'll struggle not only with solving the mysteries laid upon you but also with keeping alive any sliver of hope for salvation.
An Unnerving Story
Last Days Of Lazarus is set in post-soviet Eastern Europe. You play as a troubled man named Lazarus who for a while had kept a distance from his family. Due to your mother's death, you return to your childhood home to spend some time with your sister Lyudmila and offer support. The minute you arrive, you find everything falling apart around you, including reality itself. Unexplainable events drive you on a quest to find out more about your family's disturbing past and investigate the circumstances surrounding your mother's death. Religion and the occult are the main contributing factors to this story.
In fact, It was the story that interested me the most in the first place. I'm a sucker for games that are inspired by a real country that's facing the horrors of war. This did not disappoint. Last Days Of Lazarus is set in Romania at a time when war ravaged the streets. This was portrayed down to a T through many aspects during the game. For example, a TV in your sister's apartment shows a news broadcast warning civilians about what is going on. The story has a high-concept narrative that works really well with the genre. However, at times, I feel like the fantasy side of the story ran away with itself a little too much. Certain scenes that should have been frightening or creepy fell rather flat and by no means am I hard to scare… It was a little disappointing.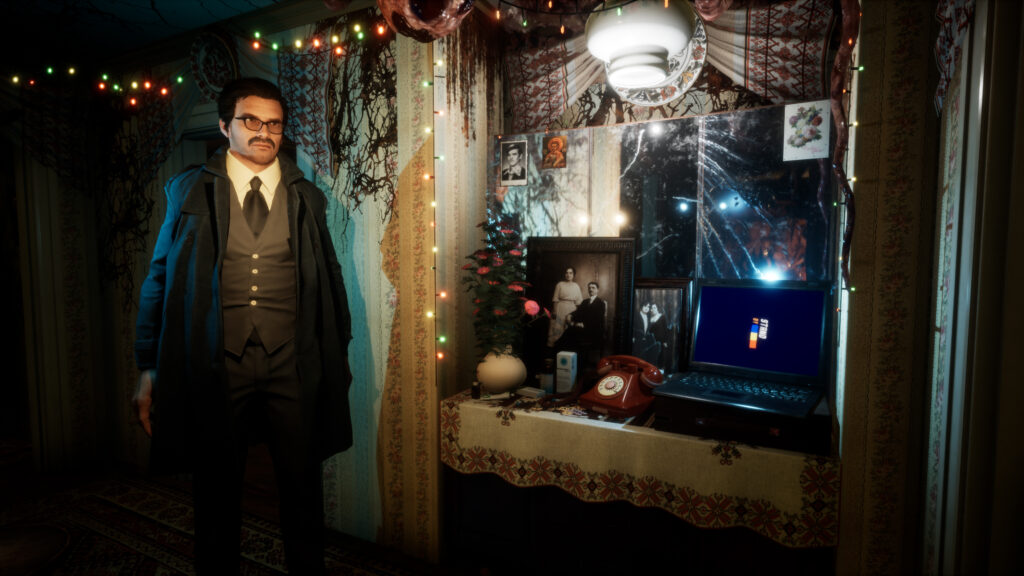 Interaction Is Key
The gameplay in Last Days of Lazarus isn't too complicated, you're restricted to a certain area to explore and uncover secrets. You have to really focus on interaction in order to progress through the story. You need to combine items or trigger events as you explore your ever-changing surroundings. Some of these can be very tedious. No one enjoys opening up multiple cupboards to find absolutely nothing to pick up.
Some interactions are not really necessary but you can do them anyway like petting a cat that you find in the kitchen, although I am sure there are many cat lovers out there that would question the importance of this interaction. Be prepared, some interactions will even make you jump! But don't worry, there is nothing that can hurt you. This isn't a survival horror where there is something out to get you around every corner. You are just exploring Lazarus' journey, solving puzzles and interacting with objects along the way to piece together a story. It's worth mentioning that objects that are relevant shine with a glow so you're not exactly guessing when an object can be activated, collected or commented on by Lazarus.
I spent a lot of my time picking up letters and documents and even though the majority of them contained bits of the story and vital information. However, they were too frequent and long-winded. I found myself after a while just scanning through their paragraphs without fully reading them as I was eager to keep exploring. It seemed like no matter where I went, there was a document to read… Or two… Or three.
Don't Judge A Book By Its Cover
I was pleasantly surprised by the visuals of Last Days Of Lazarus. Watching bits from a trailer and looking at the box cover does not do it justice. Although the characters you come across appear stiff, the detailed, eerie and full environment that you explore is what makes the art style impressive. You feel more immersed in the story because of how good the aesthetic is. Take a look around your childhood home after the opening scene and you'll know right away what I mean. It's hard to believe this is actually an indie game!
At times, there is a deliberate haze on the screen that hurt my eyes and left me feeling nauseous. I had to take a break a few times because of this, which hindered my experience a touch.

Summary
Last Days Of Lazarus has such a good strong narrative. Plus, if you're a fan of adventure and puzzle games, this is definitely one to experience. Unfortunately, the game length is very short at only about 5 hours long so don't be expecting to be still playing it next week, one full evening would probably be enough. In my opinion, it may be best to wait until it's on sale to play this game for yourself.
Rapid Reviews Rating

3 out of 5
3