Action
,
Co-op
,
Game
,
Gaming
,
Nintendo
,
Nintendo Switch
,
Nintendo Switch Lite
,
Nintendo Switch Online
,
Platformer
,
Product Reviews
,
Rapid Reviews
,
Real-time Strategy
,
Retro
,
Reviews
,
Shooter
,
Strategy
,
Third-person shooter
Door Kickers Action Squad Review
Reading Time:
5
minutes
Fast Facts
Title: Door Kickers Action Squad
Developer: KillHouse Games, PixelShard
Publisher: KillHouse Games
Website: https://inthekillhouse.com/doorkickers/
Genre: Action / Platformer / Strategy
Platform: Nintendo Switch
Age Rating: PEGI 16
Release Date: 27/10/19
Price: £13.49 – Rapid Reviews UK was very kindly provided with a review code for this title.
Locked and Loaded
Door Kickers Action Squad is a 2D strategy and platformer made by KillHouse Games. In it, you will choose one of many positions in a S.W.A.T team, ranging from a shield to recon to frontal assault, choose your loadout and save Nowhere City from its endless array of crooks and criminals with tactical manoeuvres or forget strategy and bash down doors and bodies with brute force. You might want to think carefully about the second option. Is this S.W.A.T team tempting you to squad up? Read my Rapid Review to find out more.
Eyes on The Target
Door Kickers offers the action-packed jobs of a S.W.A.T team in gory, 2D, retro goodness making it that much more likeable on the Nintendo Switch. Side-scroll your way through a multitude of rooms and roofs and ensure you leave alive. Hopefully.
Welcome to Nowhere City, a place jam-packed with weapon-wielding maniacs and hostages in need of rescue, and who better to save them and put down the crooks than Nowhere's finest S.W.A.T team?
As a member of this elite force, you are able to select up to 6 positions, each offering their own play style and unique strategic capabilities. After successfully completing your task, use your collected stars to buy more gear and upgrade your weapons with up to 60 choices. I found this feature particularly interesting as I was able to clear later missions with much more ease and enjoyed the process.
If your soldier doesn't feel up to the task, use points you earn from levelling up to upgrade an easy to use and simple skill tree, improving accuracy, recoil, reload times and more. The skill tree consists of 5 lines, so I was very happy that the skill tree was easy to navigate and didn't branch off to create different routes, making the upgrading factor even more enjoyable.
Guns Blazing
Every character offers a unique way to charge the buildings, silenced pistols, SMGs, assault rifles, shotguns and more. In addition, you can buy a multitude of gear to equip such as body armour, flashbangs, C4, spy cameras and more.
However, your arsenal isn't complete without the ultimate weapons. Save hostages and put down criminals to gain XP for your meter, enabling you to use body armour, medkits, respawns and your ultimate weapon of choice. This can range from a light machine gun, sniper support, breacher saws and may more. I found that tearing down the enemies with these lethal machines was so satisfying and giving that extra bit of support in tricky situations.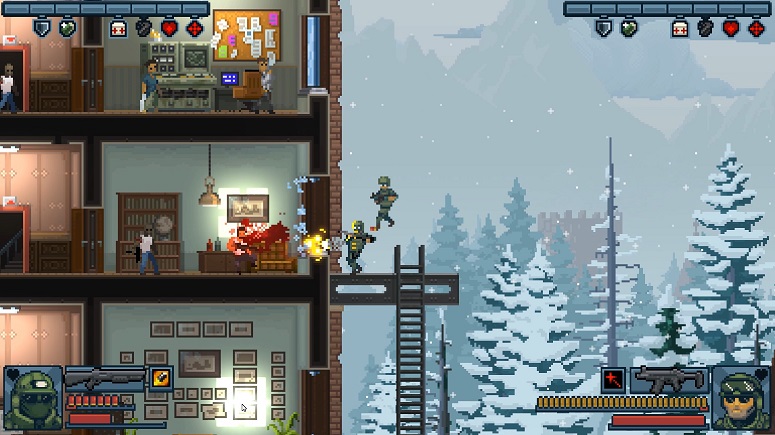 Speaking of tricky situations, your additional gear can help in a pinch. Strap a C4 to the door, get in cover and grant those on the other side a nice, loud welcome…unless you blew up a hostage, in which case, restart. Maybe you'd use a flashbang in this situation, blinding the enemies, rescuing the hostages and putting them down. There are many combinations of weapons to use with infinite ammo but the same can't be said for gear, so use them wisely.
Another Day at the Office
Now, I'm mentioning hostages and criminals, but what exactly does the full job offer for such a professional task force? In a series of chapters, each offering 12 missions with 3 stars to be earned in each one, you will be greeted with a task for each one.
The majority of these tasks are hostage rescues, which end once all of the surprisingly durable hostages are free. However, you'll find a healthy mix of trouble in Nowhere, such as bomb disposal, hostile clearing, arrests and more. You can also brave an endless tower or complete the same missions during a zombie invasion. Evil truly doesn't sleep.
Speaking of evil, the crime-filled city is home to different types of menaces, each wielding a different weapon. They can attack with machetes, knives, shotguns, pistols, snipers, flamethrowers and more. You can plan a better strategy by knowing who is holding what weapon, I found that you can tell this by who they are. Once you know which enemy holds which weapon, get to blasting.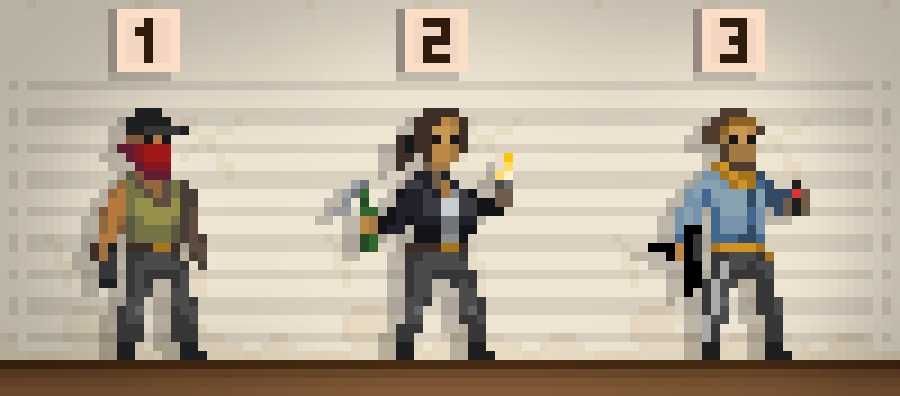 Two Guns are Better Than One
Are these missions too hard? Does it feel unprofessional to send in just one S.W.A.T member? Well, why not send in two? Form a couch coop or online coop and brave the missions together. Though it's harder to fill two meters, I found that saving the city is just as fun with a friend.
This also enables multiple combinations of soldiers, for example, one can hold the shield and the other can blast away with the good old assault rifle. A recon expert can sneak into the room and the breacher can barge in once the coast is clear. Whatever your strategy is, it'll be more effective with a friend.
So Wild And Terrific
In conclusion, Door Kickers Action Squad is an amazing police simulator. There are six positions to suit your style and the planning and ensuing mayhem truly create the feeling of being an officer and delivers satisfaction in gunning down the enemies, especially with the heavy artillery. The retro aesthetic and side-scrolling action feel even better on the Nintendo Switch and I am finding myself returning to get 3 stars on every mission.
Rapid Reviews Rating
If you would like to buy Door Kickers Action Squad for your Nintendo Switch, you can pick it up here: https://www.nintendo.co.uk/Games/Nintendo-Switch/Door-Kickers-Action-Squad-1664852.html#Overview