Action
,
Adventure
,
Game
,
Gaming
,
Horror
,
Indie
,
Microsoft
,
Narrative
,
Psychological
,
Puzzle
,
Rapid Reviews
,
Reviews
,
Visual Novel
,
Xbox
,
Xbox One
DISTRAINT 2 Review
Reading Time:
5
minutes
Fast Facts
DISTRAINT 2

Developer: Jesse Makkonen
Publisher: Ratalaika Games S.L.
Website: https://www.ratalaikagames.com/games/distraint2.php
Genre: Action & Adventure, Horror, Puzzle, Visual Novel
Platform: Xbox One
Age Rating: PEGI 16
Release Date: 10/07/2020
Price: £6.99

A code was provided for review purposes.
DISTRAINT 2 is an interactive, visual novel, horror game that deals with some deep issues. I don't want to give too much away about the story in this review because part of the beauty of this game is riding the highs and lows of the plot. However, I feel it would be remiss of me to write any more about it without first giving a content warning: this game's events centre on a suicide attempt and past trauma.
The Voyage Begins
I hadn't heard of the DISTRAINT series before playing the second one, and I was keen to avoid spoilers. So, my research extended only as far as discovering that the first game existed and watching the trailer to DISTRAINT 2. Having played the game without any background knowledge, I can safely say that it works as a stand-alone experience.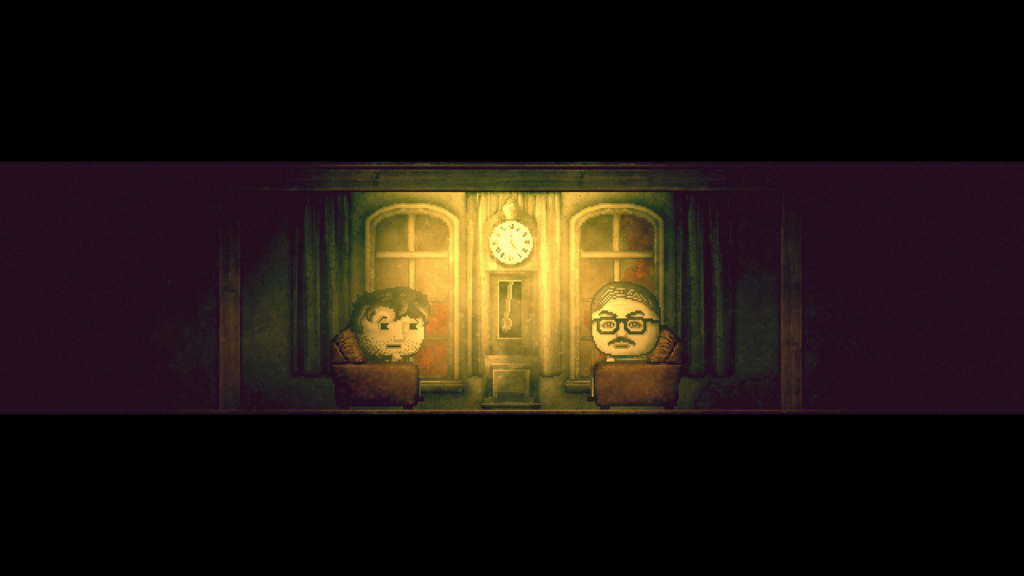 Once I'd finished and had done some more research, it seemed that the short intro at the start of DISTRAINT 2 is a résumé of what happened in the first game. Additionally, in the Xbox Store, it confirms that events in the second game follow on from what happened in the first one. With that in mind, you can be sure that I'll be playing the prequel to DISTRAINT 2 to get the full story as soon as I get the chance. I've also got my eye on the other game created by Jesse Makkonen (the developer) which is available on the Steam platform and called Heal.
One of my initial impressions of Distraint 2 was that it felt reminiscent of the Silent Hill games. Several key elements drew my mind back to this franchise: a colour scheme frequently filled with shades of green and yellow, scenes that often take place in grimy basements/apartments and a creepy incarnation of your fear that pops up now and then to inject a little extra foreboding into the proceedings. Survival horror is my favourite genre, and indeed the genre that made me fall in love with gaming, so for me, this nostalgia for another horror game is a positive association.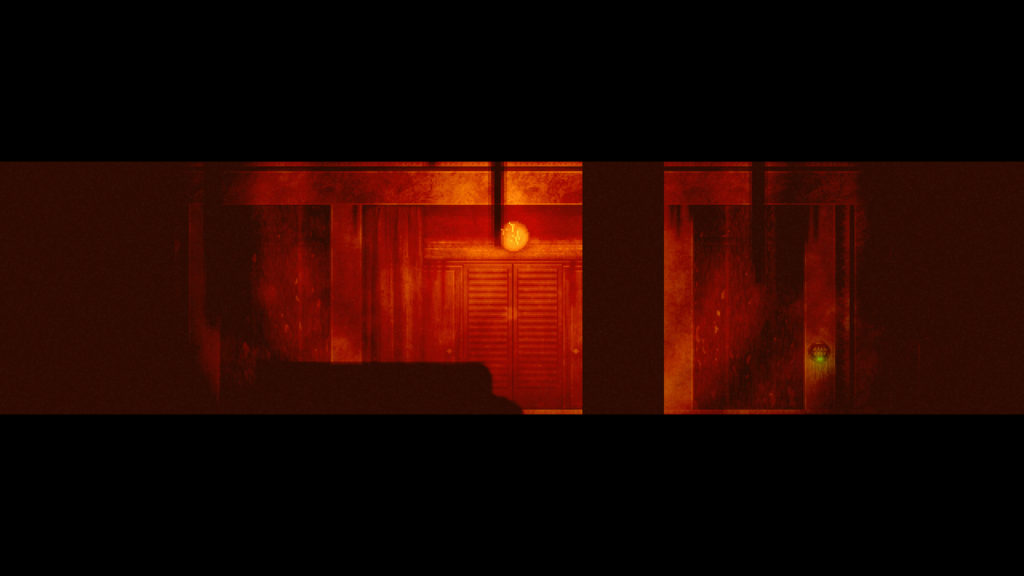 Hold On Tight
DISTRAINT 2 took me on an emotional roller-coaster of a journey. Almost needless to say, I became emotionally invested in the story-line. Some parts left me feeling deeply moved while other aspects had something akin to a soothing or restorative effect. I don't know whether Jesse Makkonen intended this or not, but I felt there was a powerful message behind the story-line of self-forgiveness, allowing yourself to make mistakes and not judging yourself too harshly. It's a game that makes you stop and think.
It might be relatively short, but I think that Distraint 2 is an important game to have on the market. The character dealing with suicidal feelings is male; I think this aspect helps to add another voice to those already breaking down the stigma against men talking about these kinds of feelings. In my opinion, it does even more than that, though; I think it adds to the broader conversations surrounding suicide, mental health and mental illness positively. It provides a means to explore possible thoughts and feelings surrounding suicide, loss, trauma and different emotions in a format that doesn't seem patronising or judgemental. Instead, the tone is one of understanding and acceptance.
Get Involved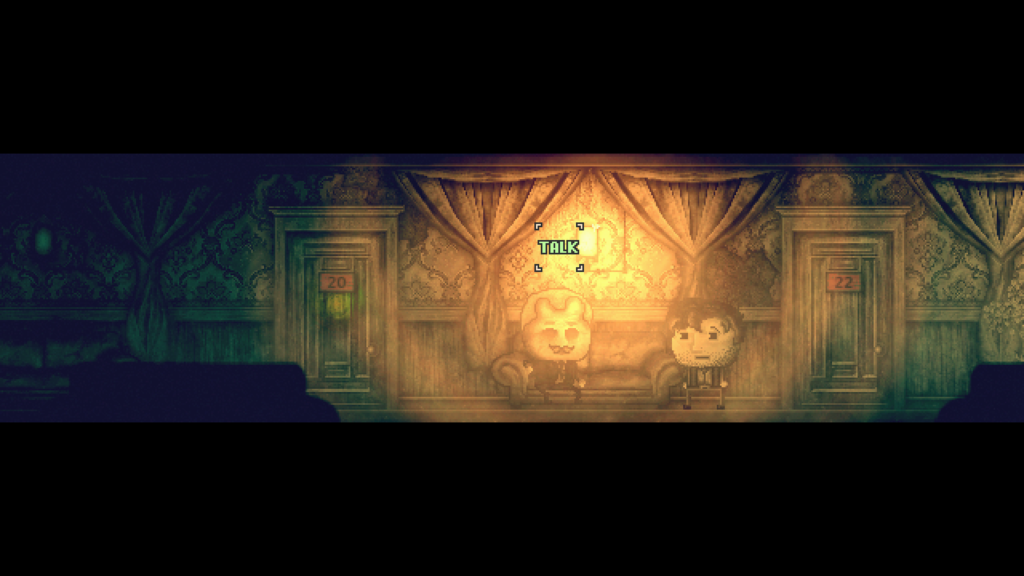 DISTRAINT 2 isn't just about the story-line; it's a very interactive visual novel. You have control of your character and move them around each scene, opening doors, talking to people, interacting with your surroundings and solving puzzles. Most of the puzzles are relatively straightforward, but one or two of them require a little extra thought. I enjoyed being involved in the story and having more control over the main character rather than taking a back seat and watching the story develop. For me, it was the perfect balance of game-play and plot advancement for a story-led game.
Although you read all the conversations as dialogue, the characters do make the odd, endearing noise. For example, to announce their presence or when you try to use the wrong item to solve a puzzle (I loved this sound). The typing noise which issues when dialogue appears for each of the characters seems to have an almost musical quality. Sometimes it left me feeling like I had been listening to a conversation rather than reading it. The musical soundtrack to the game augments the whole experience, heightening the emotions created by the developing story.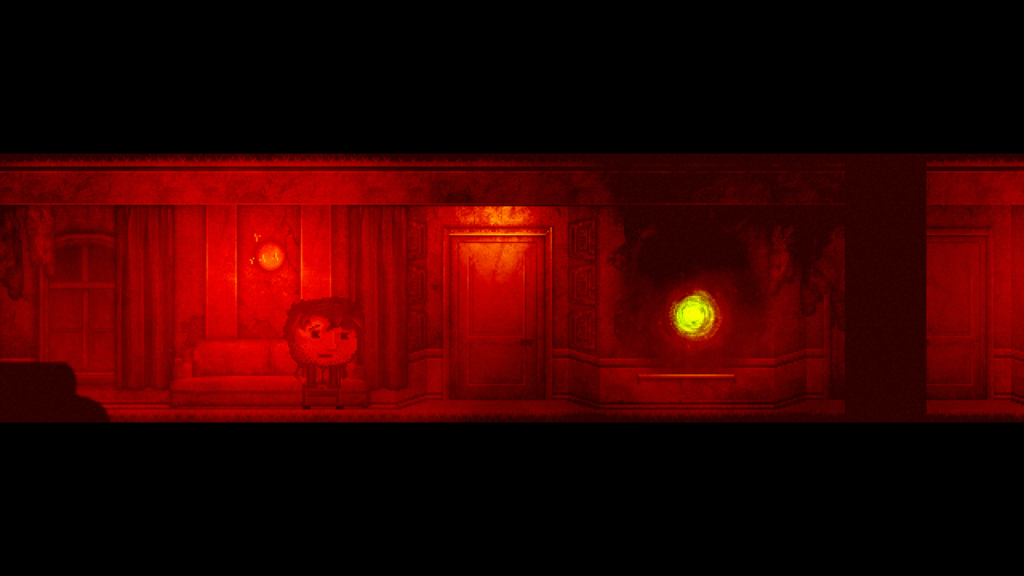 There is no autosave feature; instead, you have to save manually at green glowing orbs. There are plenty of them, though, so this doesn't pose a problem. It also means that you can stop without having to wait to get to the next checkpoint – that is if you can put the control pad down once you start!
Most of the achievements are dished out through the natural course of completing the game. However, there are a couple that require a little more work to obtain and a little wandering off the beaten path. I'd say that there is a similar level of challenge between the overall difficulty of the game and the achievements, which is easy to moderate. Don't mistake that as a negative criticism though, a crippling difficulty level would interrupt the flow of the story and spoil the whole show. Besides, I don't think that visual novel games are attractive (in the main) for the challenge that they offer but rather the adventures that they take you on.
Lasting Impression
DISTRAINT 2 has left its mark on me. It's both a fulfilling and enriching gaming experience. I'm keen to see what else Jesse Makkonen has up his sleeve for the future and to see whether there will be any more games to follow in this series. In a similar way to how a great film or book can evoke emotions that cling to the recesses of your mind, the flavour of DISTRAINT 2 still lingers on in my thoughts long after I finished it for the first time.
If a dose of horror, a compelling and compassionate story, thought-provoking content, and interactive storytelling peppered with puzzles to add a little challenge, are all on your gaming shopping list, then this one's for you.
Rapid Reviews Rating

You can buy DISTRAINT 2 for the Xbox One from the Microsoft Store.